Arrow Q&A: Grant Gustin, Producers Talk Debut Of Barry Allen and The Flash
by Jim Halterman at . Updated at . Comments
We've seen the pictures and obviously experienced oodles of anticipation but this Wednesday we'll finally meet Barry Allen.
Arrow Season 2 Episode 8 not only beautifully lays the groundwork for introducing Barry but it also gives us the chance to see Grant Gustin – who we loved as smarmy Sebastian on Glee – in the iconic role. 
One spoiler? Gustin does a kick ass job, brings Barry Allen to life perfectly and, as a whole, both this week and next week's Arrow episodes are two of the best the series has ever done.
Having previously had a sneak peek at this week's episode, I ventured to the CW offices today to attend a special press screening for next week's mid-season finale followed by a Q&A with Executive Producers Greg Berlanti, Geoff Johns and Andrew Kreisberg as well as Gustin.
Here's a glimpse into the casting of Gustin, how the Barry and Oliver characters compare to each other and what we can expect with the sparks between Barry and Felicity.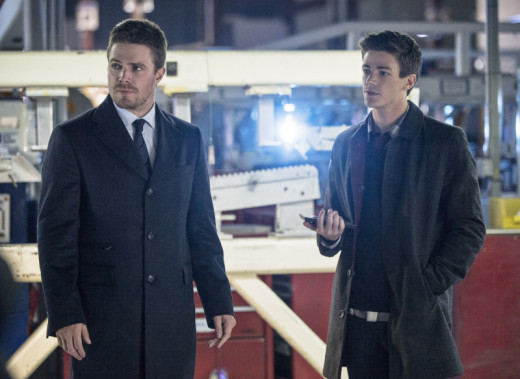 Casting The Flash: Berlanti explained that in casting Barry Allen, Gustin was the right man for the role. "We were looking, I think for us, someone who was the essence of the character and, in addition, you're looking for someone who fits into the Arrow universe we have but still can really potentially have the promise of their own universe and their own show," he said. "Had we not found Grant I'm not sure we would've done the character." Berlanti added that this was the largest casting search he'd ever been involved in for a TV show.
Why does Barry show up? Kreisberg teased this week's episode by saying, "Barry comes to Starling City because there is an unexplained robbery at Queens Consolidated and Barry is very interested in the unexplained, for reasons we will find out over the course of these two episodes."
Barry = Ollie? Don't expect Barry to be a knock-off of the Oliver Queen character. Instead, Krieseberg explained, "He's the opposite of Oliver in a lot of ways. Barry is sort of  outgoing and funny and a little bit unsure of himself and smart and sort of a squeaky wheel and the contrast between Stephen and Grant is both comical and fun and has been really great to watch."
Gustin On Allen: Gustin was the first person who read for the role during casting, and said of his take on the character, "I immediately thought he was really funny and endearing and I hadn't done anything like that and I had a lot of fun with that just during the audition process and they started steering me in that direction immediately as soon as I met them and just to have fun with it and I took it from there, I guess."
A Fine Romance?: While it's obvious that Ms. Smoak takes a liking to Barry pretty quick (and he to her), how did the writers bring that element into these episodes especially with those moments we've been having between Ollie and Felicity? "We spent a lot of time talking about Barry, even before the pilot aspects, just how we were going to introduce him in these episodes," Kreisberg said. "And especially with the way the season had been going talking about Oliver and Felicity and their growing relationship or feelings for each other, the fact that Barry and Felicity are so similar and they're both a little bit uncomfortable in their own skins and both very likeable and personal and it just seemed like they would instantly hit it off which would just complicate things for Oliver even more and it felt like the right way to go."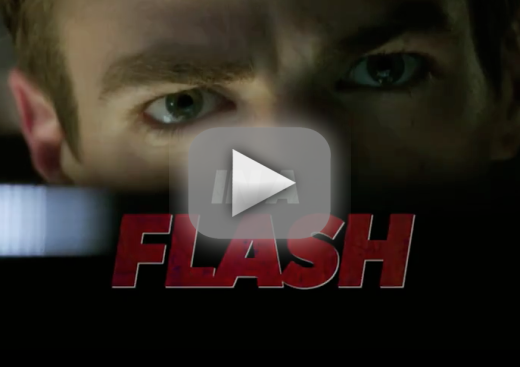 Chemistry! As you'll see in this week's episode, the chemistry between Felicity and Barry is unmistakable. When did the producers know they'd struck gold? "One of the things we did when we were testing some of the finalists," Kreisberg revealed, "Emily Bett Rickards came down from Canada to read and the minute we saw her read with Grant it was a done deal."

Grant Gustin, Superhero fan: The actor is not afraid to show his own enthusiasm for this genre. "I'm a superhero fan. I'm a big Superman fan growing up," he said. "I've always been a big superhero fan and to even have the opportunity to audition for this blew my mind and to have [the producers] get excited about it was really cool but I wasn't trying to be any Flash that I knew about or I had seen because I didn't have that much knowledge in that category, I guess. It was fun to have them get excited on my random take on Barry Allen." Kreisberg corrected the young actor by saying it was more spot-on in regards to Gustin's take on the role.

Arrow to Flash?: We already know that the producers and Gustin will be making a stand-alone pilot for The Flash (as opposed to a backdoor pilot on Arrow) but will we see some our Arrow characters in said pilot? "Definitely, definitely there's a chance," said Berlanti. "That's our hope." The producer also added that if the pilot does go to series, there wouldn't be a regular flashback element to the series. "There's other ways to get at stories that feel more truthful to who the character is and what's awesome about that character," Berlanti said, "and that's really exciting for us as we break the pilot story."

"The Amell Workout:" It's already legend how much star Stephen Amell works out for the physical demands on the show (and the regular shirtless scenes), but how much is Gustin working out? "I think my actual workout routine is much different than what [Amell] did and what he still does because our body types are so different," said the actor. "Right now it's about running [and] I've been training with an Olympic running trainer and putting some mass on my body and that's where we're at right now."

Are you excited to see Barry Allen on Arrow? Do you think he will come between the budding feelings between Ollie and Felicity?

Arrow airs Wednesdays at 8pm on the CW. 

Jim Halterman is the West Coast Editor of TV Fanatic and the owner of JimHalterman.com. Follow him on Twitter.

Tags: Arrow, Spoilers, Interviews, Grant Gustin