Ian Somerhalder Flashes Back to Favorite Vampire Diaries Scene, Dancing in Underwear
by Miranda Wicker at . Updated at . Comments
Ian Somerhalder underwear alert!
We thought that might get your attention.
As The Vampire Diaries makes its way toward January 23 and Episode 100, TV Fanatic is celebrating the occasion with daily posts from our time in Atlanta late last year.
We were on the red carpet at a party in honor of this milestone and asked Nina Dobrev for her favorite Elena moment.
And below we ask the same of Somerhalder, who takes us all the way back to The Vampire Diaries Season 1, Vicki and a scantily-clad dance party...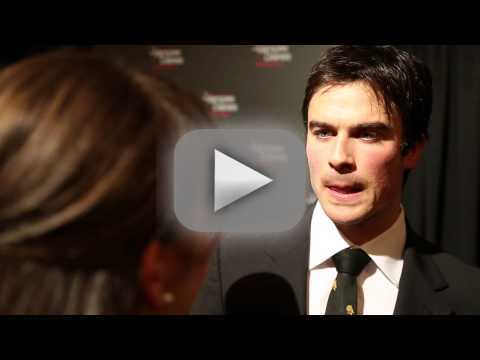 And a week after The Vampire Diaries Season 5 Episode 11? We'll be treated to "The Devil Inside," an installment that will bring Enzo front and center.

Click through photos from the upcoming hour now:

Damon and Nadia appear to be getting awfully cozy together in this Vampire Diaries scene. It is from the Season 5 episode "The Devil Within."

Miranda Wicker is a Staff Writer for TV Fanatic. Follow her on Twitter.

Tags: The Vampire Diaries, Ian Somerhalder, Exclusives, Interviews