After what feels like the longest hiatus in the history of cable television, our favorite psychic and his black friend have FINALLY returned to primetime - and with jolly good installment to boot!
In true Psych fashion, they also chose to kick off Psych Season 8 Episode 1 with the return of the infamous international man of mystery himself, Pierre Despereaux.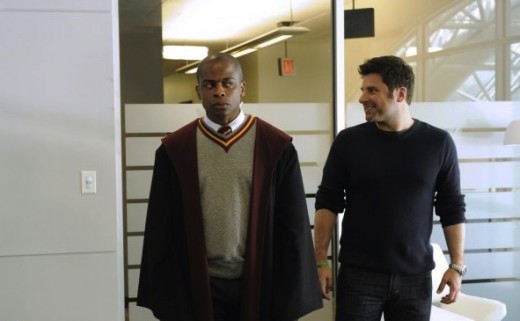 I really loved the storytelling choices made in this episode. Placing you in the action of the story to walk you back through it really grabbed my attention. The best part is, it didn't stop there!
Shawn, in a much better English accent than the one he exercised in Psych the Musical, narrated the events leading up to their double-barreled - and clearly one-sided - encounter with the villains of the hour.
One could also argue that there was another villain on our hands: Despereaux. Though he didn't manage to get away with anything this time, one has to wonder what the point of having him at Interpol under a name like Royston Cornwallace Staley - or Roy Staley for short - could truly be?
I will admit that I wondered up until the very end whether or not the Despereaux we came to know and love for his uncanny ability to encompass constant mystery and intrigue was, in fact, state-created. I would assume, given that the homeless man outside the pub was the same man apparently portraying Stuyvesant, that Despereaux was engaged in some kind of long con, the ultimate aims of which I am still unsure.
Did he actually start out as a paper pusher that thought international art theft was a reasonable and gentlemanly hobby? Was it simply a back story he provided to initially fool Shawn and Gus into aiding his plan?
I choose to believe in the con. That was Despereaux can continue to live on as the criminal every other should aspire to be.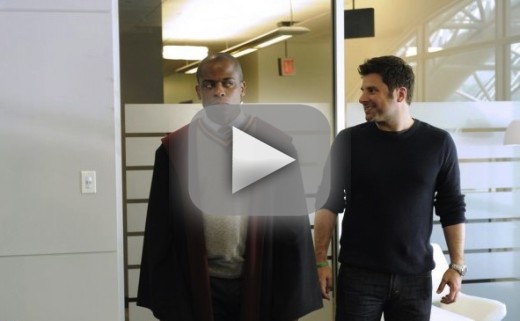 That didn't mean that it wasn't hilarious to watch Despereaux attempt to handle Shawn in field situations, though. It simply demonstrates how off the wall he and Gus truly are, even to someone usually as calm and collected as Despereaux seemed to be.

Speaking of off the wall... Gus and his obsession with the Harry Potter franchise was not only out of left-field, but thoroughly engaging to watch. He CLEARLY takes it very seriously! He berated a TSA official and was dedicated to correcting anyone who misrepresented or belittled the franchise.

I assume this was meant to reflect the feelings and behaviors of diehard fans and it was really entertaining to watch!

I will note that we did get to see a little bit of Lassiter in this episode, and can clearly see what impact the interim Chief has had on his career, as he now dons an Officer's uniform rather than his usually Washington black suit. One can only wonder how long Lassiter will be in this new position?

Overall, solid and exciting start to a new season! I can't wait to see what else Psych has up its sleeve for Season 8!

C. Charles is a TV Fanatic Staff Writer. Follow her on Twitter.

Tags: Psych, Reviews