New York City is a very dog eat dog world - and, for a nice girl like Carrie, sometimes that's not the easiest thing to maneuver.
The Carrie Diaries Season 2 Episode 11 showed just how competitive things can get, especially when working in the world of fashion and journalism.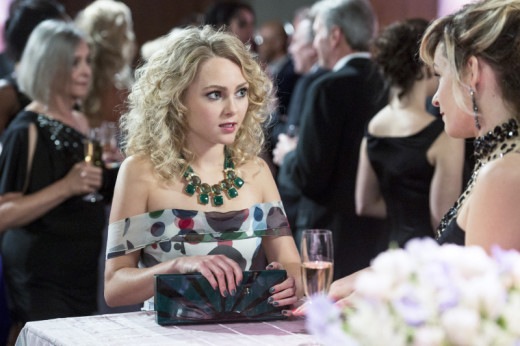 Bennet was still nursing his heartbreak over his breakup with Walt and finding out his ex was dying of AIDS in The Carrie Diaries Season 2 Episode 10. Naturally, he's emotional and Carrie was trying to be a good friend by covering up for him with Larissa.
She went so far as to write his piece on parachute pants for him. When he didn't show her how grateful he was, she was a little peeved, but Sebastian didn't think she had the right to be.
When you do something generous you can't want anything in return.

Sebastian
Sebastian makes a good argument, but I'd only go up to a certain point. Carrie did a generous thing for her friend to help him out and while she shouldn't be expecting a prize for it, Bennet could've showed more gratitude.

Listen, I'm all about emotional pain being just as important sometimes as a major crisis, I think we're all human here. But Bennet saying he was sick and taking advantage of Carrie when he was really partying it up at Da Silvano, was just rude.

This for some reason reminded me of the Friends episode when Joey said that there's no such thing as a selfless good deed. Who knew Joey Tribbiani made such a wise point?

Deal with your personal matters, lean on your friends, but do it with a little grace and be a professional too. I don't feel sorry for Bennet for getting fired. After she saved his ass the first time, I agree with Samantha that Carrie wasn't stealing anything. Bennet dropped the ball and she just picked it up.

Journalism, especially fashion journalism, is an incredibly competitive industry. Think The Devil Wears Prada. I highly doubt Larissa got her position by being sweet and passive. You bet your ass she stepped on people with her Jimmy Choos all the way to the top. I'm not saying it's right, I'm just saying it's a reality.

Sebastian was originally painted as this bad boy, but ultimately I think he is just a really big sweetheart. He's always trying to do the right thing. Sure he might make stupid decisions sometimes like when he kissed Maggie in The Carrie Diaries Season 1, but for the most part he does everything for the people he loves.

I'm interested to see how his world will change without the fallback of that trust fund.

Mouse and Donna as the odd couple best friends might be one of my favorite storylines this season. I love when it just seemed like Maggie was asking Mouse for her opinion on lingerie and suddenly the camera panned to show Donna tucked into the booth next to Mouse. Those two are hilarious together. Their advice was good but sometimes you have to go with your gut too.

Good storyline for Tom this week and I enjoyed seeing him team up with Dorrit to nab that bitch who totally played him. Where was Walt? Nursing his own heartbreak wounds? Looking forward to next week's prom episode.

So do you think Carrie did the right thing by taking the ballerina assignment or was she screwing Bennet over?

Leigh Raines is a TV Fanatic Staff Writer. Follow her on Twitter.

Tags: The Carrie Diaries, Reviews