It was the "Crunk in the Trunk" on The Real Housewives of Atlanta Season 6 Episode 11, with rude house guests and bad friends all around. We recap the weekly drama in our TVF +/- review.
So, what put these looks on Phaedra Parks and Kandi Burress' faces? 
Is it any surprise that it was Kenya Moore opening her mouth?  Not minutes after the ladies told her Porsha Williams wanted to surprise NeNe with the news that she had moved into Ms. Leakes neighborhood, Kenya decided to spill the beans herself. Minus 18.
Of course the news had NeNe publicly declaring Porsha a bad friend for not keeping her informed…and poor Porsha ran off in tears once again.
Honestly I'm not sure what's more annoying. Porsha and her constant tears or Kenya loudly complaining about them.  Minus 12.
Wasn't it ironic to hear Kenya dis Porsha's large new home. Didn't Kenya have one equally as big last season…which she got kicked out of?
In Porsha's defense I can only come up with one logical reason that she'd lease an 8,000 square foot home for herself and her little dog. Perhaps it's a divorce tactic. Her attorney may have told her to keep up the style of living she's become accustomed too until the divorce is finalized.
But that's just a guess on my part. The other side of that coin is that Porsha is just a fool with money. 
Phaedra wasn't kidding when she said that family and house guests are like fish. They each need to be kicked out after three days. Plus 27.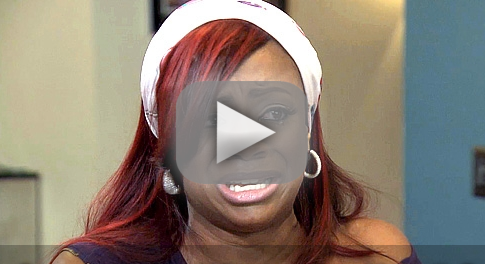 I've already had enough of Mal. I'm actually with Kenya on this one. Family or no, on what planet is it OK to show up on someone's doorstep and invite yourself to live with them for two months? Minus 22.

And in what universe is it acceptable to ask a husband and wife about their sex life? Minus 33. I know some families are close but that's taking it a bit too far.

Elsewhere, Kenya had her own rude housemate. Her father. The man gets in her car and starts telling her how ugly her feet are. Minus 15.  Gee, thanks Dad.

Then he criticizes her house, won't put out his cigars and informs her that he never takes orders from any woman.  Minus 40.  What a charmer?

If Daddy's going to disrespect Kenya in her own home to make himself feel like a man, perhaps it's time for him to go back to Texas. 

And what's up with Kenya's mystery African sugar daddy. We never see him but he buys her Bentleys. She's having fun showing off the car. How about showing off the man?

But it was when Kenya invited NeNe and Cynthia over to paint that I really had to laugh. Plus 31. Very funny.

Girl, these are not the women you call with an offer of pizza and beer and expect to get a room painted. And if you're driving a Bentley can't you afford to hire someone to paint your home?

Maybe the paint fumes got to her and that's why she was playing with Baton Bob (and is this really what passes for a "celebrity" in Atlanta?)

Someone should really warn Ms. Moore not to go twirling in the streets. That car looked like it was aiming for her.

Episode total = -82! Season total = -709!

Now it's your turn, TV Fanatics.  Who do you think is the more annoying housewife?

C. Orlando is a TV Fanatic Staff Writer. Follow her on Twitter.

Tags: The Real Housewives of Atlanta, Reviews, Reality TV
Want more The Real Housewives of Atlanta?
Sign up for our daily newsletter and receive the latest tv news delivered to your inbox for free!
More From TV Fanatic
Aria finds some interesting clues as she begins volunteering at Radley while Hanna continues to struggle with Alison's return.
With Maura away, Jane must rely on Susie's help to solve the perfect murder on Rizzoli & Isles.
Royal Pains Season 6 Episode 7 When Jeremiah helps out one of her burlesque friends, he grows closer to Vivianna. Paige learns something...
April misses an opportunity on Chasing Life, but can another make up for it? Brenna learns about Natalia Ortiz, which sends her into Greer's arms. Read the review for more.
---