Kim's party was more than just "Luaus and Lies" on The Real Housewives of Beverly Hills Season 4 Episode 11.
There were guests who showed up drunk and burger binged.
We recap below it all in our patented TVF +/- review system, as Carlton Gebbia and Brandi Glanville had a busy day... and they were hungry: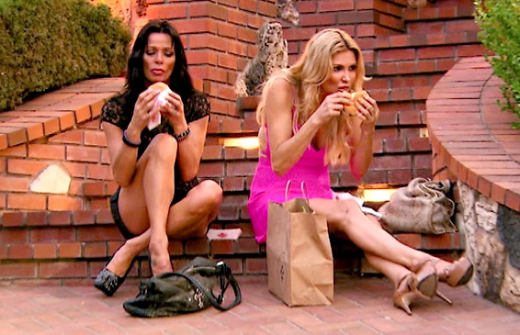 It started off with a pole dancing class and one of them showed up buzzed on tequila.
Plus 20 because it wasn't Brandi!
Go figure. Carlton was the one who showed up sloshed in order to straddle a pole. That could've been dangerous. Minus 11.
Carlton claimed to be a pole virgin. Somehow, I'm not buying it.  She even came prepared with her "F**k Off" booty shorts. Needless to say, Brandi was impressed. 
So after riding the pole all afternoon, the twosome head over to Kim Richard's daughter's high school graduation party.
Yet they barely made it past the front steps, having gotten distracted by two things.
The first was one of Brandi's wannabe suitors texting her pictures of his penis. Minus 40. Someone obviously thinks a lot of themselves. Eww. 
Both Carlton and Brandi have advice to the men out there. No dick pics. Please. Plus 33. 
That didn't deter their appetites for a Fatburger and yes, it was definitely strange seeing them sitting on Kim's front stoop chowing down on burgers. But you know what was even weirder…what was a burger truck doing there at all if there was food and drink inside? Minus 12.
A big Plus 50 to Kim for making this party alcohol free. Not only is she a recovering alcoholic but the party was for her underage daughter and all of her underage friends. Having non-alcoholic tropical drinks was a responsible choice while still being fun.
Unfortunately Carlton spent her time looking for a way to avoid becoming sober while Brandi barfed up her burger in the bathroom. Minus 25. Did we really need to see…or hear that?

Perhaps that wasn't quite as gross as Kim and Kyle Richards getting bikini waxes together. First they were asking if they could possibly get bikini extensions or braiding.

Then when Kyle complains that she's afraid the waxing will hurt, the woman pulls out a couple of penis shaped dildos for her to squeeze. 

Minus 22. If you don't know where those have been I really wouldn't touch them.

In other news, as much as I take bullying seriously, if I have to hear one more Housewife talk about it I might change the channel. I think claiming to have been bullied and being mad at Brandi has become Joyce's entire storyline.

And couldn't someone come up with a better anti-bullying campaign than to give people the finger? Someone paid for this classless concept? Minus 27.

Later at Lisa Vanderpump's, Kim attacks Lisa and Ken for not coming to her daughter's graduation party even though they RSVP'd two weeks in advance and sent a gift.

Minus 13. Sometimes Kim just doesn't know when to let it go. 

Finally, Brandi and Joyce make up…for this episode. Does anyone really think it's going to last?

Episode total = 47!  Season total = -63!

Tell us, TV Fanatics. Do you think Brandi and Joyce's truce will last?

C. Orlando is a TV Fanatic Staff Writer. Follow her on Twitter.

Tags: The Real Housewives of Beverly Hills, Reviews, Reality TV