Perhaps Sally should have given Aidan a primer on the new verb in town before he talked to Kat on Being Human Season 4 Episode 4 - because I'm going to go ahead and predict he Sallied that up.
Alright -- who isn't going to start using that phrase? It's so appropriate. Bless her heart, but Sally really does have a history of knocking things to hell and back... literally. 
It was good to see Zoe again, even if she had to break the bad news to Sally that not only is her name a verb, but she only pattered along beside her on her ghost hunting trip to keep the people she was visiting out of harm's way. Ouch. To Sally's credit, she's right about this one -- something is way up with Lil' Smokie.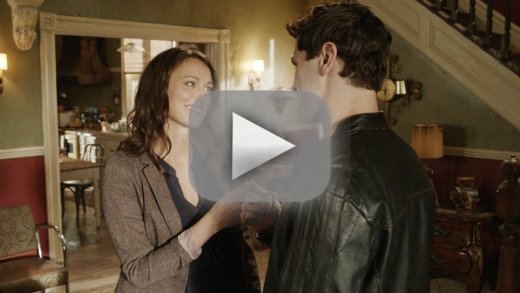 It took me by surprise when Beatrice unfolded that original photo, revealing Smokie standing in the window upstairs sporting the same shirt she was wearing in the doorway when she called her "mom." What do you think? A twin who was possessed and the family tried to rid her of a demon and she died, demon in tact? Something tells me Smokie is the problem (well, Smokie was probably Beatrice, but since we don't have a name for the other, she's getting it) and the family was trying to cure her.

Aidan really is in love with Kat. I was unsure of that until he chose Kenny and Kat over her. Granted, she's a bit off her rocker now matter which way you look at it, but they were married back in the day. Those ties are long gone, however. She was right about their attempt at being human likely being unsuccessful, but her game is no better.

Kenny looking out for his father was pleasing, as I was also uncertain as to whether he had completely forgiven him for setting him free in the condition he was in. It appears he has forgiven him, and now Nora and Josh(ish) have, too.

Kat's reaction to Aidan's confession was pretty spot on. If she had been really drunk, she might have played along and dragged out the conversation for a bit and learned enough information to start questioning things in detail later, but just laughing in his face while stone cold sober was a good trick. Aidan seems like a funny guy, why not think he was pulling her leg?

If you thought Josh was sniffing at the pregnant woman on the park bench because he wanted to eat her baby, raise your hand! If I'm the only one raising my hand, I am so embarrassed! For shame on me for thinking so poorly of Josh's wolf. But that's where my mind went. I was happy to be proven wrong, but it did occur to me.

It was interesting how husband Andrew continued to ask "what are you?" to Josh in the middle of each of their conversations. Well, more at the end because it was a bit of a conversation killer. They seemed like a decent couple and the idea of Josh and Nora having wolf friends is intriguing. Sticking around is imperative, especially because holding out a little wolf baby only to whisk it away would be incredibly rude.

I snapped photos of the baby with my camera on the screen. It was so cute, and the reactions of the parents "She's perfect," proved that everybody sees beauty in their baby no matter what it looks like. Thank goodness it turned when it started suckling the magic milk, because taking her outside would have been a little bit interesting.

It was another incredibly solid hour of Being Human. We caught up with old friends and hopefully made some new ones that we'll get to visit with as the seasons go by and a mystery that we thought we might understand only compounded itself. Bravo!

If you've missed any episodes, don't forget you can always watch Being Human online right here at TV Fanatic!

What surprised you the most?

Carissa Pavlica is the managing editor and staff writer for TV Fanatic. Follow her on Twitter and on Google+.

Tags: Being Human, Reviews