Lost Girl Review: Beginning of a Beautiful Something
by Carla Day at . Updated at .
Bo has changed and not for the better. Is it because she has aligned herself with the Dark Fae or is there something more going on?
On Lost Girl Season 4 Episode 6, Bo starts to get her memories back with the help of a Fae opera singer, Ianka. Even though they were only flashes of memories, they were enough to cause worry about Bo's future.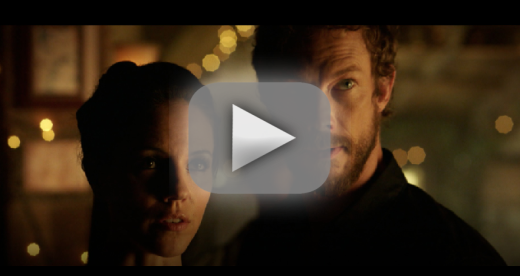 The arrival of Ianka at the Dal was a bit odd since Bo didn't remember her and she was speaking Russian. It was a nice touch that Kenzi was there to translate for them. Since Bo didn't remember Ianka or the deal that they made, that leaves the door open for just about anything to be revealed about her time away.

Ianka's appearance worked here because she came to help Bo remember, but I hope Bo's amnesia isn't overplayed over the next episodes. In exchange for helping Bo, Ianka wanted her freedom. That didn't work out as she wanted, but in the end Ianka got her freedom through her death. 

Ianka's story with her masters and the bomb threat really weren't all that interesting, but they helped to highlight Bo's lack of freedom. As an unaligned Succubus, Bo was the ultimate symbol of a free Fae. Now that Bo's aligned with the Dark and doesn't remember making the pledge, she's lost the independence that she held so dear. 

Right in line with that is the memories that Bo envisioned when Ianka sang. She saw a crown that said "Isabeau." And she later remembers being marked by a handprint on her upper chest. She's been marked or claimed, it seems. Who marked her? The Wanderer's the most likely. 

In addition to her memory issues, Bo's become a bit selfish which is out of character for her. At the Dal, she gets it on with Dyson even though he reminds her that it's against the rules. At least Trick walked in to stop them. He reminded them that the Una Mens were watching very carefully.

Despite that warning, Bo and Dyson go through with it after Ianka's death. It makes sense for Dyson to be with Bo because he loves her, but Bo didn't seem at all interested in him. She couldn't even look at him. If she doesn't have feelings at all then it was selfish to put him at risk. And, it cost Dyson dearly. The Una Mens came and took him away.

Bo's relationship with Kenzi isn't as close as it was before either. Something's definitely wrong with Bo. I don't really like this Bo. I hope those around her start to recognize the problems and help her find herself again.

At least, Kenzi finally kissed Hale! The bloody ear has me a bit worried. Hale saved her and got the girl, but at what cost?

I saved the best for last. Lauren and Evony! What?!? It was refreshing to see a light-hearted and fun Evony for once. Was she playing an angle? I'm sure, but it was still fun while it lasted. "Dark Belch" beer and pizza are the way to make a point. If Evony wasn't the Morrigan and Lauren wasn't well Lauren, they'd make a cute couple.

But, they are who they are. I'm not sure why Lauren wanted to capture Evony's lip on the plastic, but it was a sign that there's more going on than first appeared. I was surprised that Lauren decided to go with the Dark Fae even though they offered her protection and freedom. 

If Lauren has a secret plan, I can't wait to find out what it's all about. In the meantime, I hope we get more Evony and Lauren personal time. Their flirty, fun chemistry (even if fake) was a riot to watch.

Which couple was the most fun to watch this week?

Carla Day is a staff writer for TV Fanatic. Follow her on Twitter and on Google+.

Tags: Lost Girl, Reviews
From Around the Web