There was no messing around on Part 1 of the Love & Hip Hop Reunion last night.
With Mo'Nique in charge, viewers learned the answers to a number of pressing questions. To wit...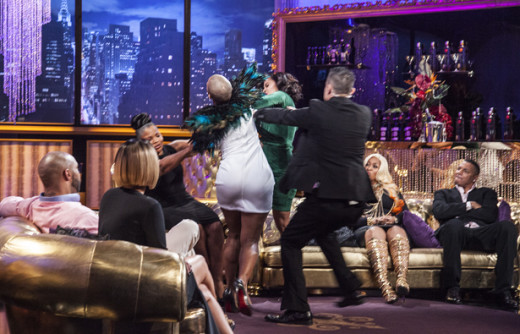 What's the deal with Yandy and Mendeecees? The former says they talk multiple times per day, but that doesn't mean they know what the future holds.
Does Rich believe in Cyn and Erica's relationship? No. "I've said this before, and it's going to seem like I'm being a prick right now but I'm not," Rich said. "Cyn is a prop. Erica wants attention that I wasn't giving. And this poor girl is caught up in this love thing that we got going on."
Are Erica and Rich still getting it on? "I don't know whether they're fu-king," Cyn said, adding that she knows Erica and Rich still have feelings for each other.
Said Rich: "The reality is don't sit on my lap. Don't come to my house. Don't kiss me on the couch…If you've moved on, actions speak louder than words."
He is "absolutely" still in love with Erica.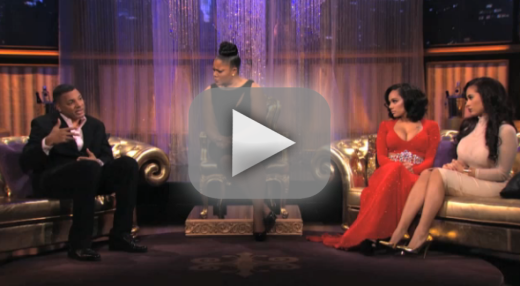 Can Nya Lee and Erica Mena make up? They went off on each other here, but then got separated and Nya admitted: "I didn't come today to fight you. We have enough people fighting us. We don't need to fight each other."

Why did Tahiry break down? Because Joe claimed she left at "thick," walking away when things got tough. "I had to do it so you could get better," she replied. "I'm not running, don't you dare…I had to do what I had to do whether it hurt me or not, for you to be fine and sitting on this couch, alive."

Joe comforted her with: "Nobody in this universe, sans your family, got you like me. And you know that. Do you behave that way? No.And it's the same way I know, sans my family, don't nobody got me like you. Like, we know that about each other. So we don't have to do all the extra sh-t."

Tune in next Monday, folks, but Part 2 of the reunion. And take solace: The series has already been renewed for a new season!

Matt Richenthal is the Editor in Chief of TV Fanatic. Follow him on Twitter and on Google+.

Tags: Love & Hip Hop, Reality TV