What a bizarre twist on NCIS: Los Angeles Season 5 Episode 14.
Unless I misunderstood the initial crime scene, I'm surprised that the NCIS team didn't use a little more caution when they brought in the former military contractor, Robert Brown.
He may have been attacked in the car with the hooker, but he was responsible for killing two of his former co-workers and left them hidden under bags of garbage.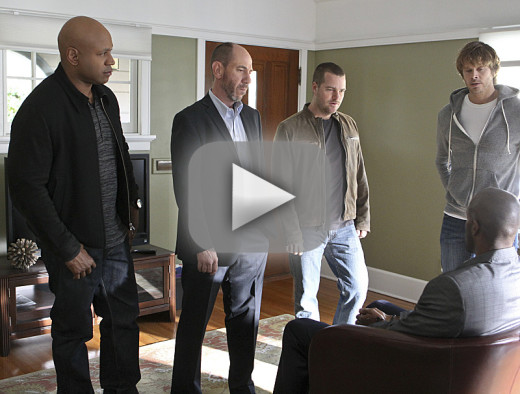 If Robert had nothing to hide, why didn't he contact the authorities and report the attack? The team rushed to assume that he was on the right side of the D-7 scandal, when in fact he was the scandal. Regardless, the case provided some great moments for the members of team.

The cases each week are usually the least interesting part of an episode unless it's a multi-arc story or one of the more action-packed thrillers. In "War Cries," I was more intrigued by what was going on in Kensi's investigation of CIA Officer Sabatino than the murder case in LA. It was a relief to find out she wasn't entirely on her own in this and had Nell's support.

Sabatino is definitely a shady guy, but whether he's the mole or working against the United States is unclear. Since he works for the CIA, secrecy is expected. With Nell not finding anything out of place, he's either on the up and up or he's really good at hiding his nefarious activities.

I doubt that Sabatino is the mole, but he surely knows more about his partner's execution. I'd love to see Kensi and Sabatino end up working together. The two of them would likely butt heads, but be effective at finding the "White Ghost." It's always the quiet ones right? Perhaps, NCIS Tech Operator Andrew Leeds is the mole.

With Kensi in Afghanistan, NCIS: Los Angeles season 4 has taken Nell out of the Ops Room and given her more responsibility. The first time, it was her computer skills that were needed, but since then it's been about developing Nell. Hetty's decision to groom Nell provides authencity to the expanded role.

Nell can still be awkward at times. When she first received the message warning her about Robert, she hesitated and clued him in. That response cost her the moment to get out of the room perhaps without incident. When she was attacked, Nell kicked butt! She didn't hold back and stabbed him repeatedly which weakened  him enough to make it a fair fight.

When Kensi gets back (and she has to be back!), I hope we find her and Nell paired up for a case in the field. Their dynamic together working remotely has been great and in person would be even better. Plus, Kensi would be the perfect mentor for Nell, in addition to Hetty of course.

Outside of the two investigations, there were a few funny moments along the way. While I disagree with Granger, his line about Deeks in Afghanistan being a National Lampoon Vacation movie was way off base. Though, Deeks got payback when he allowed Granger to be forced to his knees.

Eric's always one for out there ideas. Was his Dead Man's Switch mention foreshadowing something? Or, just one of Eric's whims? Granger not only got it from Deeks, but also from Eric. He did look like a pirate though, right? He deserved it since he called Nell and Eric meercats to Hetty.

The best personal moment though was Sam's ploy to get Callen to go out on a blind date. Way to help out your partner! And a school teacher was perfect, though Callen's choice of occupation was a little odd. In that suit, he looked good and could have been in securities. It was only one dinner, but it's time for Callen to get a love interest and she seemed perfect for him.

NCIS: Los Angeles is off for a few weeks due to the Olympics. Let's hope we get more movement and answers on Kensi's mission in Afghanistan. She needs to get back to LA where she's around friends and not potential foes.

Is Sabatino good or bad?

Carla Day is a staff writer for TV Fanatic. Follow her on Twitter and on Google+.

Tags: NCIS: Los Angeles, Reviews