Once Upon a Time Spoilers: The Big Apple, The Big Bad & More!
by Jim Halterman at . Updated at . Comments
Earlier today, I was treated a sneak peek at the spring premiere of Once Upon a Time Season 3 - and, well, it's all sorts of fabulous... which also means it's all kinds of spoilery.
But that doesn't mean there aren't things that I can't tell you.  In fact, here are a few fun facts courtesy of show creators Adam Horowitz and Edward Kitsis that you'll see in the Once Upon A Time Season 3 Episode 12.
It airs March 9 on ABC...
What is happening between these two over dinner? It's hard to tell if Emma is moved by what he's saying or unhappy. We'll have to wait until Once Upon a Time returns to find out.
Different Time Zones: In true OUAT fashion, we'll start this crop of episodes bouncing between present and a year ago that will unfold into a bigger mystery. Gotta tell ya, it's nice to see the bulk of characters back together in big group scenes though it may not stay that way for long!
Wicked Witch Backstory: We'll see the fantastic greened-up Rebecca Mader in the first episode back, but don't expect to get her history immediately.
"The backstory is kind of doled out over a few [episodes]," said Horowitz, with Kitsis adding: "As far as her origin story, we'll actually reveal that in episode 16, which is entitled 'It's Not Easy Being Green.'"
And her name is not Elphaba as you might think. It is Zelena.
Going to the Chapel... and Behind Bars?: While I cannot say between which characters, there is a (OMG!) marriage proposal in the episode, as well as someone else ending up in jail.
New York, New York! Henry and Emma are living happily ever after when the episode kicks off. Henry is in school (a school project is mentioned) and their apartment is pretty nice. But, of course, how long before this gets shaken up? I mean, does anyone stay happy long on Once Upon A Time?
How much Oz? With Mader's Zelena in the picture - as well as a few evil monkeys (they're much scarier than the ones in The Wizard Of Oz!) - will this season be as Oz-centric as the first half of the season was with Neverland?
"It's very different in its conception," explained Horowitz. "The Wicked Witch is a big part of the second half and a driving force as an antagonist but the world of Oz, it's a place that will see and we will spend a little bit of time there but it's not a 'everybody gets on a ship and goes there' kind of thing."
And, yes, a nod to the Yellow Brick Road and maybe some other Oz characters will come.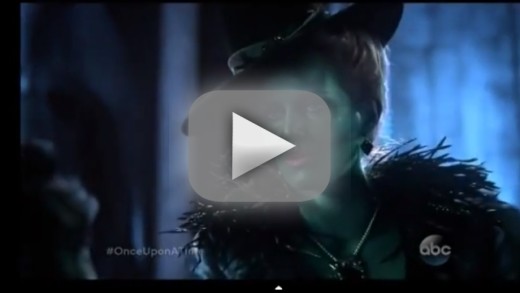 Aren't you…? Yes, you'll see Chris Gorham (Auggie on Covert Affairs) appearing in the episode on the New York side of things as Walsh, a love interest for Emma. But, as we saw in Once Upon A Time Season 3 Episode 11, Hook is also in a New York state of mind…

Where is Glinda, the Good Witch? We will meet Sunny Mabrey in the iconic role in latter half of this new crop of episodes.

"I think she's still Glinda the Good Witch in that she's positive and has a lot of spirit to her," said Kitsis of their spin on the character. 'But the kind of mythology of the four witches and that thing, we kind of created our own." Horowitz also revealed that our Glinda is pure goodness but she's a character "who has gone through a lot more."

Who Steals Regina's Heart? Regina is feeling the pain of Henry's absence and goes to (shocker) dramatic lengths to deal with it. But maybe Robin Hood (who we'll see with his Merry Men) can help her wounded heart?  (Reminder that Lana Parrilla teased us last fall about romance finally coming to Regina.)

Emma/Hook/Neal triangle: With Hook in NYC with Emma and Neal, well, not, don't be surprised if the self-professed 'scoundrel' doesn't take this opportunity as a way to worm his way into Miss Swan's good graces. But, knowing Neal, I wouldn't count him out just yet.

Once Upon a Time returns on March 9 on ABC. 

Remember to watch Once Upon a Time online now if you need a refresher.

Jim Halterman is the West Coast Editor of TV Fanatic and the owner of JimHalterman.com. Follow him on Twitter.

Tags: Once Upon a Time, Spoilers, Interviews