The Big Bang Theory Producer Teases Sheldon/Amy: What's Next?
by Matt Richenthal at .
SEXY SPOILER ALERT:
Sheldon and Amy kissed on The Big Bang Theory Season 7 Episode 15! Seriously! For reals!
You can watch The Big Bang Theory online to see the monumental event for yourself.
Where will things go next for the couple? What step will follow this venture to first base?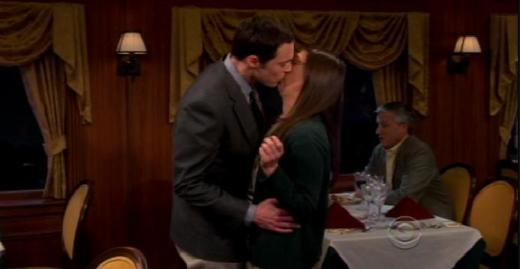 Executive Producer Steve Molaro spoke to Entertainment Weekly about the development and said there won't be "too much relationship stuff" between these two over the coming weeks, but "obviously this is a moment that occurred and you'll hear about it here and there."
Sheldon clearly enjoyed the smooch, as he related to Leonard, and it's safe to say Amy won't be satisfied.
"I imagine she would want more than that or she'll try to work that into the way hand-holding has sort of become a regular thing," Molaro said. "Maybe date nights will end with some sort of kiss."
Visit EW for the full interview with Molaro and enjoy these AWWW-inspiring moments between Amy and Sheldon now:
They were meant to be from their very first meeting!
View As List
2.
Sheldon and Amy's First Date
Yes, Penny went on their first date. Something went right because they continued to see each other.
---
3.
Amy Tries a Hand Holding Experiment with Sheldon
Sheldon and Amy do a scientific evaluation when she gets turned on by Zach. They determine that she's horny. He wants her to go out with Zach, but instead she tries a hand-holding experiment with Sheldon.
---
6.
Sheldon Asks Amy to be His Girlfriend
After Amy flirts with Stuart, Sheldon realizes he wants Amy to be his girlfriend. She says yes, even though he gave her a Relationship Agreement.
---
7.
Sheldon and Amy Play Doctor
Amy dresses up in a Star Trek outfit and plays doctor. Sheldon says he doesn't like it, but tells her to keep at it.
---
9.
Sheldon Cares for Amy When She's Sick
Amy gets sick and Sheldon takes care of her and that means putting Vaporub on her chest. She likes it!
---
10.
Sheldon Spanks Amy
Amy faked her continued illness, so Sheldon would take care of her. He decides to punish her by spanking her. She likes it!
---
11.
Amy and Sheldon Play Private D&D
Amy asks Sheldon if they are ever going to have an intimate relationship and then they end up playing private D&D.
---
12.
Amy is on Sheldon's Screensaver
Amy questions her relationship with Sheldon until Leonard shows her that she's included on her boyfriend's screensaver.
---
Matt Richenthal is the Editor in Chief of TV Fanatic. Follow him on Twitter and on Google+.

Tags: The Big Bang Theory, Spoilers
From Around the Web