Eighties heartthrob Rick Springfield guest starred on an all new Drop Dead Diva. It doesn't get much better than that.
On Drop Dead Diva Season 6 Episode 3, Jane took on the case of rock star Liam Matthews, played by Springfield.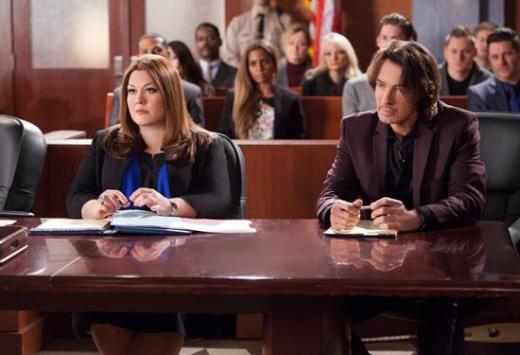 For a rebel rock star, Matthews was actually quite charming. I mean, he punched that paparazzi in the face, but sometimes paparazzi should be punched in the face... so it's a draw.
The same charm could not be said of Jane's co-counsel and new coworker, Belinda. She initially did a good job on her previous case with Grayson. She even went on an enjoyable date with Owen. However, it seems Belinda doesn't play all that nicely with coworkers of the same sex.
After immediately declaring Matthews to be her client and telling Jane to keep her paws off, Belinda barely consulted with Jane, relied on her short skirt and body for attention in court, and overall acted like a possessive bitch. Honestly, she might as well have peed around Liam like a dog to mark her territory!
The straw that broke the camel's back was when she screamed at Jane in the middle of the office. Not only is that inappropriate in a work forum, but Belinda clearly needed to be reminded that she just started at Harrison & Parker and Jane is a partner.
Liam never would have won his case or got the medical treatment if he needed if it weren't for Jane. Glad that Owen gave her the boot. Besides if Jane was begging for Kim back, you know Belinda must've been really unbearable!
So after all of the truth bombs that got dropped in the two part season premiere, Grayson asked Jane if she'd like to go on a date at the end of Drop Dead Diva Season 6 Episode 2. This week was set to be all butterflies and googly eyes.
Grayson: I'll bring some of that fruity Pinot Grigio you like.
Jane: Oh no, I mean that's actually really thoughtful since that's what I used to drink, but my new taste buds prefer something a little drier.
Grayson: Chardonnay it is.
But, you guys didn't think the writers were going to let us see Jane and Grayson be a couple that quickly, did you? C'mon, it took five seasons for Grayson to even know Jane's real identity!

Despite the fact that they didn't go on a real date, I saw them getting closer anyway. Between Jane running to Grayson's rescue when he was arrested on his Banksy-ish case and their flirty gestures in the office, it was still cute.

As Jane mentioned, she has new taste buds. Even though she meant it literally, I took it as a bit of a metaphor too. Grayson has to get to know Jane as new Jane, not pick up where things were with Deb. It's a whole new person essentially.

So are you glad Jane and Grayson are taking it slow?

Leigh Raines is a TV Fanatic Staff Writer. Follow her on Twitter.

Tags: Drop Dead Diva, Reviews