WARNING: Game of Thrones spoilers ahead.
HBO has released the titles and official descriptions for the opening quartet of Game of Thrones Season 4 episodes.
Looking for a mere teased of what's to come via a new promo? Click Play now.
Looking a more in-depth glance at what lies ahead? Consider yourself spoiler warned and read on...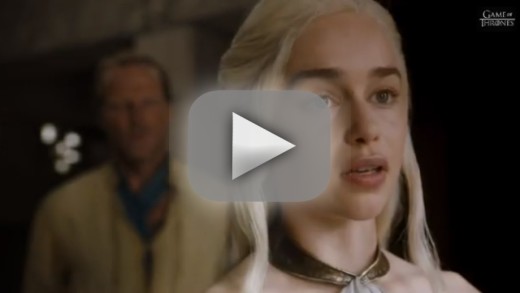 Game of Thrones Season 4 Episode 1, "Two Swords" (April 6): Tyrion welcomes a guest to King's Landing. At Castle Black, Jon Snow finds himself unwelcome. Dany is pointed to Meereen, the mother of all slave cities. Arya runs into an old friend.

Game of Thrones Season 4 Episode 2, "The Lion and the Rose" (April 13): Tyrion lends Jaime a hand. Joffrey and Margaery host a breakfast. At Dragonstone, Stannis loses patience with Davos. Ramsay finds a purpose for his pet. North of the Wall, Bran sees where they must go.

Game of Thrones Season 4 Episode 3, "Breaker of Chains" (April 20): ) Tyrion ponders his options. Tywin extends an olive branch. Sam realizes Castle Black isn't safe and Jon proposes a bold plan. The Hound teaches Arya the way things are. Dany chooses her champion.

Game of Thrones Season 4 Episode 4, "Oathkeeper" (April 27): Dany balances justice and mercy. Jaime tasks Brienne with his honor. Jon secures volunteers while Bran, Jojen, Meera and Hodor stumble on shelter.

Need to catch up prior to the big return? Watch Game of Thrones online, right here and now.

Matt Richenthal is the Editor in Chief of TV Fanatic. Follow him on Twitter and on Google+.

Tags: Game of Thrones, Spoilers