The amount of depth and precision that is crafted into every detail of Hannibal is often astounding.
Every piece of dialogue and every nod of the head has a stitch, a connection, to themes and to patterns that fit within the universe that's been expertly developed for television.
As Hannibal Season 2 Episode 3 proved, no detail is too small.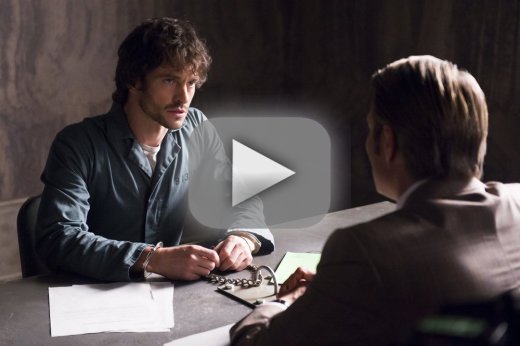 Hannibal's smile as the prosecution contends that Will was the smartest person in the room was indicative of how Hannibal views his "friendship" with Will. Hannibal sees Will as a man that gave him access to everything he desires.

In that moment, Hannibal thought he had won, quietly celebrating his victory over Will because his undoing ultimately lies with Will. During that scene, and throughout the trial, Hannibal thinks he is successful in shifting all the blame and crimes he has committed to Will. 

The tables turn slightly when Hannibal presents the evidence of the copycat killer to Will and is slightly taken aback when Will quickly deduces that this is not the same copycat killer.

Hannibal recoils slightly, but quickly composes himself. He's not expecting Will to put the pieces together and have his perceived innocence broken. 

All of the small moments of guilt and innocence, and the physicality associated with them, are tiny and over quickly... yet the carry so much weight.

Hannibal sees that Will is beginning to pick apart his nearly air tight set up and decides to help his friend out by taking the stand. In some twisted way, Hannibal may actually see Will as a friend. There's something about the cat and mouse chase that Hannibal adores; his game with Will no doubt brings him a lot of pleasure. 

When Hannibal sees the shift happen so quickly, he develops a new plan. While I do believe on some level Hannibal views himself as a friend to Will, all other emotions take over first and Hannibal thinks Will is someone who needs to be conquered first.

Hannibal is willing to literally tip the scales of justice for Will, so he is willing to let the games go on for a little longer. 

Will, unlike Hannibal, is so unwilling to go into his own mind and sort out the facts; he enters the minds of killers all the time, but when the facts about Hannibal continually present themselves to him, Will can't seem to connect the pieces.

The psychiatric jail Will is in is a metaphor for his head space. Will is unable to make the final leap towards Hannibal and cannibalism at this point and every time he ventures into his dreams or into his mind, Will sees the stag.

But he's unwilling or unable to connect the dots.

However, Will is getting closer; he's actually willing to step out now and follow the stag and he instinctively knows that the killer is close to him; visions of Hannibal telling Will to get back in his cage are telling: there's still some amount of power Hannibal holds over Will.

Is Will close to convincing those around him about Hannibal?

Nick McHatton is a TV Fanatic Staff Writer. Follow him on Twitter.

Tags: Hannibal, Reviews