Everyone knows that Cameron Tucker likes to be the center of attention. 
So he was not impressed by "that pathetic peacock of a man" who came back from sabbatical on Modern Family Season 5 Episode 16.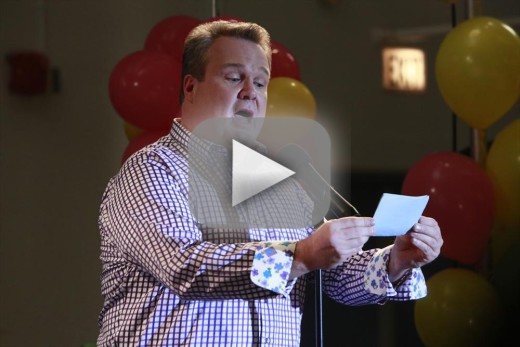 Most of the characters were doing a little peacock-ing on this latest installment. Since there are a couple of definitions for this out there, let's go with number-five on Urban Dictionary: when someone is blatantly obvious that they are proud of something.
For Cam, there are a ton of things he is proud of: his planning skills, his fashion choices, his dancing and his ability to be the center of attention. Senor Kaplan was a clone of Cam.
I mean... hello, they started dancing in sync! But Cam was not down with sharing the spotlight and he didn't care what it cost him.
I had a choice to make. Be the better dancer or the bigger man. So I stepped off the dance floor and made the obvious call. You wanna win over a crowd? Invite a lonely mom to dance. She never saw it coming and neither did he.

Cam
All I can say is good thing Claire had boy shorts on under that dress or she would've pulled a Britney Spears on the whole high school. Also, girlfriend is FLEXIBLE! 

Claire needed the distraction anyway. After priding herself on her supreme matchmaking skills, Luke and Alex were ready to kill her. But then again, I do believe I saw two happy couples slow dancing. Maybe Claire's meddling wasn't all bad!

Jay and Gloria had a cute face-off over who was the better persuader. Jay tried his old man guilt trip tactics. Gloria got down and dirty threatening to off Lily's stuffed animals. Let's face it, sometimes we all get conned by little kids.

They come off all innocent but your two-year-old niece knows exactly what she's doing when she steals a donut and tells your brother that you gave her permission to eat it (when you did not.)

I truly love that there is not a week that goes by on Modern Family where I don't find something relatable. Who hasn't been embarrassed by their dad before? But you know what? One day you will grow up and find yourself totally proud of the goofy ways that he entertains people the way Haley did with Phil. I loved that she finished his act for him.

Lastly, we have Mitchell. He was actually pretty mild-mannered and passive the whole episode until he whipped out his totally inappropriate speech at the end when he realized every single thing he thought was a mistake. Not going to lie, I laughed the hardest when he thought it was a picture of Samuel L. Jackson but it was really Aisha Tyler's mom in a Kangol hat.

That Kangol hat will throw you Mitch, it really will!

So, who is the biggest peacock on Modern Family?

Leigh Raines is a TV Fanatic Staff Writer. Follow her on Twitter.

Tags: Modern Family, Reviews