Joe Carroll needs some new friends.
After ditching Lily and her psycho twins, Joe decided joining another cult might be the best idea. Really, joining another sect of wackos was the next best alternative?!?
At least this time, The Following Season 2 is making sure we all know who those redshirt characters are going to be by literally putting the random cult members in red outfits.
The question of where does the story go after The Following Season 2 Episode 6 was quickly answered, propelling the series forward in what was probably the best hour of the season so far.
The Following Season 2 Episode 7 delivered some fast paced thrills, storylines that weren't ultimately connected to each other and a chilling last minute twist.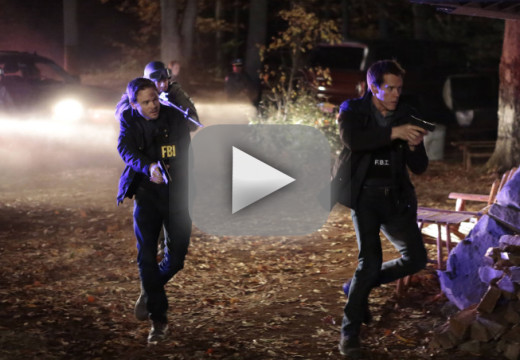 It's interesting to note that Joe Carroll clearly made a name for himself in The Following Season 1. Yet the sophomore season has expertly created various other lead "villains" that have had lasting impressions. And the introduction of Micah (don't turn your back on him) and even killer of the week, The Huntsman, were able to be memorable on screen.

Of course, we also still have Luke, Mark and Lily.

What's more, Joe has been relegated to almost following others. It's a good step at not just recycling a character into doing the exact same things in the freshman season. Still, just the way Joe carries himself feels like he's simply biding his time to bust out and upstage them all.

But I like this transition to the cult compound with a leader who is oddly unsettling; friendly but menacing and smart but appearing to be off his rocker. It must be tough when the people like Emma and Joe - that we thought were crazy - are finding and acknowledging others that seem even further in the deep end.

Additionally, the costumes and masks of this new group was a nice visual change from all the dark colors that grace the episodes. It was definitely theatrical right down to the sacrifice of Emma and her blood. Luckily for her, she survived, but Joe better be careful not to underestimate his new "allies." I'm definitely intrigued as to where this story is going.

As for Ryan, he was forced to work with the FBI in rescuing his niece from capture, something I'd been predicting since she first appeared in The Following Season 2 Episode 1.

Listening to Luke laugh at Ryan about The Huntsman being bad news and watching the Huntsman get excited about tattoos added to his creepiness. Even the son had some issues and it was funny to see both Ryan and Mike lock the door on the FBI to get their information from the child.

And I was glad that this new villain, just one of apparently many men in Lily's life, didn't fall for the ploy Max was trying to convince him in taking. Sure, he ended up hunting her anyway, but it was because she managed to get the jump on him not because he just stupidly let her go.

But the real surprise was seeing the good guys win this time. Ryan killed the Huntsman and Max was saved. I thought perhaps she would finally meet her end sending Ryan into a further tailspin of obsession.

However, that victory was short lived with Lily's second video message and the quick killing of Mike's father. I never saw it coming until it was too late.

I felt for Mike in having to watch the horrific death and then seeing him breakdown. Things have really gotten personal for him, but I wonder if this will push him down his own dark path like Ryan has taken. Or maybe Ryan will be the one to help it from consuming him.

Either way, the bad guys on The Following Season 2 better be ready for some intense return fire. Things are just heating up.

Were you surprised Max was saved?

Sean McKenna is a TV Fanatic Staff Writer. Follow him on Twitter.

Tags: The Following, Reviews