Sam Witwer has starred on Being Human as Aidan since the show's inception.
And with the series coming to a close tonight on Syfy, the actor shared with us his favorite character stories; what he'll miss about working on the drama; and what he hopes the fans take away from the experience as the curtain goes down on Being Human after four seasons...
-------------------------------------
What was your favorite story arc?
I love the Kenny storyline and how it developed. I think it's great. He's such an interesting character and such an interesting actor and it certainly gave my character a hell of a lot to play off of. Having said that, I would say I kind of rank my fondness for that next to anything Bishop related because me and Mark Pellegrino, I mean, we just had so much damn fun together and we really, really liked working together. Right from the get go. Immediately we were very much enjoying that.
Overall, really it's all about the people. We had a really great group of people of people on the set and it was really great to go to work every day and to see these idiots and play such wonderfully conceived of material.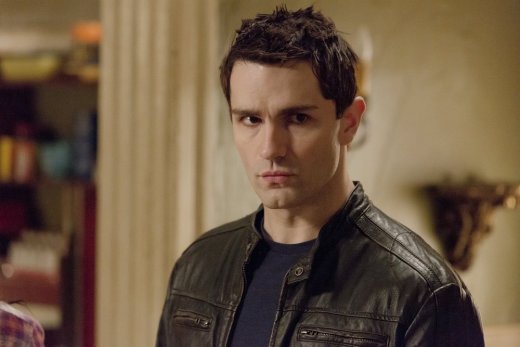 Is there anything you wish Aidan could have done but didn't? What comes to mind now is how much fun it would have been to have Bishop, Aidan and Kenny share a scene together.

Oh I would have loved that, too. Hell, throw Kyle Schmid in there as well as Henry, you know. I think we had a really interesting family with those guys. The good news is me and Connor Price hang out now and again and certainly me and Mark are always hanging out whenever we get a chance. And, you know, Kyle too, so you never really lose these people.

Is Being Human ending with the characters in a true place?

I believe it does, yes, absolutely. I think that Anna Fricke boils down the heart of the show into some very provocative scenes and we shall see if the audience agrees with me. I definitely like it very much.

Do you think the fans going to be happy with the ending or will it be bittersweet?

Boy, I really don't know. I hope that they like it. I'm really not sure. We'll see.

How Being Human been a good ride for you as an actor?

It's been great. It's never ever an easy job, which I appreciate very much, that the writers never ever threw me a softball. You know, hey! This week you're gonna be going through heroin withdrawal while learning that your ex-wife killed your son. Good luck!

Or, oh, this week you're going to play the whole episode pretty much hammered. You're gonna be drunk. Good luck! Or, now we want you to do a 1950s version of your character, you have two days to do it. Good luck! Oh, and you're shooting in a few days, so come up with something by the third day. You know, it's always, always extraordinarily difficult and I appreciate that. I love that. You don't want a job that's easy.

You know, it's funny. There was a job that very well could have been mine if not for availability. It was a series regular of a very well thought of show, a very successful show. I could have done it. I could have done that job, but I would have been learning what I already knew how to do and with Being Human it was just never good enough for me. I've talked about this before, but going into Being Human, if you wanted me to make people laugh, I could go over the top and just do some sort of weird Saturday Night Live-esque weirdness, no dignity and just go for it. Go for the laughs.

With Being Human, and with the way that I was trained, when I was at Julliard, they all thought I was just going to go be on Saturday Night Live and that was going to be where I put myself and my career. But when I started getting hired for things it was all drama. And then with Being Human it was drama, right? I had to play this serious role, but it also required me to be subtly funny.

So even if the character isn't in on the joke he's got to be to watch at times. His reactions have to have some sort of comedic value. That was something I didn't know how to do before Being Human. Coming out of Being Human, it's a skill set I've gotten to add to my tool box, really. How do you play something totally straight and still be funny? I love that there is a demand that I do that.

Did you get the Kool-Aid punch through the wall in one take?

That was one take! Yeah, we had time to reset it one time if we didn't get it. If for some calamitous reason we didn't get it on the first take we could do one more, but yeah. It was one take. The glee on my face? That was the real deal. I was really that happy about it. I thought it was hilarious.

It's apparent that you all got along well. Does getting along so well mean a lot of good times on set and a lot of outtakes? Did you get goofy when you're filming?

You know, it's funny, but even though it didn't happen a lot, I got the sense some directors were overwhelmed by our comedic antics on the set. But at the same time, our producers said, 'sorry, this is how we do it ya know? This is how we get that roommate vibe or that comedic vibe that we need on the show so, sorry! You're gonna have to put up with their idiocy.

We definitely had tons of fun on the set, too much fun, more fun than anyone should be allowed to have in a professional situation. It was still ridiculous work, but we were expected to have a fun, roommate vibe, ya know, so if they didn't allow us to blow off some steam, they weren't going to get that. They were very, very good about that.

Do you have anything in the works?

A few things, but I can't really talk about it because it may not happen. But I'm working on a second album, writing some stuff of my own and looking at some scripts to see what may or may not be out there. I'm saying no to a lot of stuff, simply because being under contract is tricky. If you're going to be under contract you better really believe in that show, so I've been very, very selective.

You tend toward genre programming. Any plans to stray from that?

Possibly. It depends on what's good. You never say never. I don't even remember what the situation was or what the show was, but there was a chance I could be on a vampire show – this was years ago – and I said, well, I don't want to be on a vampire show. That's what I said. Well, never say never because four years later I was on Being Human being a vampire, right? So I don't know, as long as it's a good script. If it happens to be a genre thing, so be it, but I don't know what it looks like until it's in front of me.

After playing a vampire for years, are you excited to spend some time at the beach?

I'm not the kind of guy who works on his tan or gets a spray tan. I'm vain, but I'm not that vain. You know, if a tan happens, I won't stop it from happening.

You couldn't even go work in the garden and show up on set with a farmer's tan.

Yeah, that would have been a problem. It would have been very, very bad.

What's the one thing you most want fans to remember about Being Human?

It's really up to them. I just hope that they were living with those characters, because the show was extremely personal to us and we all had a huge stake in what we did every day on set. I hope they feel like they got something personal out of it. It was not just a job for us.

Nobody just showed up and said their lines. Everyone was noodling with everything. Everyone was interfering with everyone else's job. That's what it required for us to make a good show. For example, I've written music for the show, I've written scenes, I've gotten a chance to be with the camera crew while they were shooting with a guest star somewhere else just because they needed it shot.

You know, it was like making an independent movie with your friends every season and for that reason we were a hell of a lot more invested than you would be in a normal type of show. For that reason, the fans really are sharing something very personal to us and I hope they realize that.

If they feel personally very strongly about it, the good news is, so do we.

Carissa Pavlica is the managing editor and staff writer for TV Fanatic. Follow her on Twitter and on Google+.

Tags: Being Human, Interviews