In what was quite the sexy installment of Hart of Dixie, George and Lemon tried to get past their drunken hook-up - but couldn't when Zoe Hart took their "relationship" it into her own hands.
During Hart of Dixie Season 3 Episode 17, Annabeth was nearly swept off her keep by a shy, stalkerish - albeit adorable - man while Lavon wass STILL regretting his decision to end things with AB.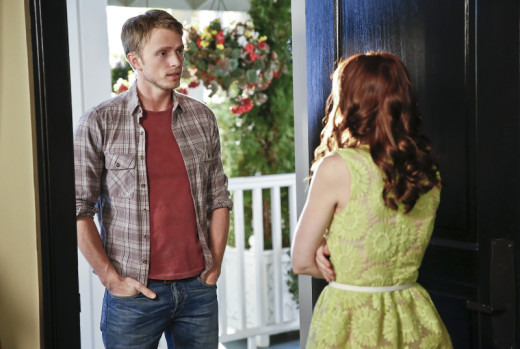 To say the least, I really enjoyed this episode. While I watched, I made a list of observations that I wanted to make sure I pointed out:
Opening with a hot scene between George and Lemon, you've got my attention. Please continue.
Lemon and George's morning after is at the top of list for awkward run-ins. Even I was uncomfortable.
George: I cannot stop picturing sex with Lemon; Lemon: sex with George was spectacular!
Wanda had syphilis. Yikes.
Zoe is currently walking around Bluebell with straight up sex hair.
Awww cute. Lavon and Zoe are cursed buddies. I love their friendship.
OXYTOCIN is the same chemical for both love and hate. Who said Hart of Dixie never taught you anything!
Charles notices that Wade has rock hard abs too.
Zoe payed off a florist, she's so hardcore.
Anyone getting the stalker vibe from AB's new man? A fake illness for a month and the first time he bought her a drink he didn't show his face. Creeper.
Salmon isn't supposed to taste fishy when it's cooked right.
Ugh Zoe, I loved Joel too. I get you.
There goes George, falling for Lemon again. Leorge 2.0!
My favorite par was that the George and Lemon relationship was amped all the way up. We didn't just ease back into their possible rekindling, we went right to the juice.

It was great and it was sexy. I have never liked their relationship before but I do now. It's like all of the things they didn't say when they were together can now be said. They're two completely different people and this is a relationship I can get behind.

Obviously, George and Lemon are having oxytocin overload because they're fighting and then they're making up. Love/hate relationships make for good TV.

Usually I get bored with Zoe's antics but I am really pleased with how this one ended up. Zoe wasn't try to cure her curse, she was trying to prove she was cursed so that she could cope with her break up. This plot was much more enjoyable knowing there was a deeper meaning.

Another great aspect was Wade trying to win over Charles so that he could be apart of Harley's life. Little Harley went to Wade for advise about a bully and it broke Wade's heart that he ended up with a black eye. It's adorable and it's working.

That said, I still want Vivian out of the picture. I find her character boring and the fact that her ex-husband is sort of a big jerk, makes me even more bored with character.

Elsewhere, AB was off finding a new, creepy, boyfriend while Lavon talked about being afraid he let go the love of his life. Like I've said before, he has absolutely no room to be hurt or upset about losing AB. That was Lavon's choice and now he has to live with it.

Grow some toolage Lavon, move on. You broke her heart and don't deserve it again. End of story.

Overall, I really did love this episode and I honestly can say that it was my favorite of Hart of Dixie Season 3 so far.

Would YOU like to see George and Lemon get back together?

Tags: Hart of Dixie