What the heck is going on? 
Lost Girl Season 4 Episode 12 was probably the most confusing hour of the series in a season that's been as clear as a muddy river. Bo's turned her back on all the people she claims to love for Rainer. If it was true love maybe that would be understandable, but her devotion to him is just odd and unexplainable.
Even after a glimpse of their time on the train, I don't get it.
Rainer was supposedly such a bad guy that Trick wrote him out of history and banished him to another realm. Why would Bo help him given that? Even as he's written back into history there's nothing good being revealed.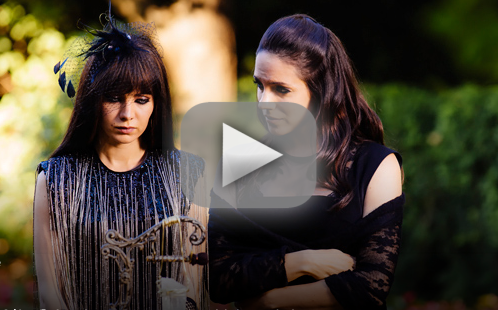 It's the day of Hale's funeral and Kenzi needs her friend, but Bo's not there for her. Their friendship once seemed unbreakable, but now it's destroyed to a point that I'm not sure they can ever get back to being besties. I miss their fun banter that used to open most episodes, now they just fight all the time.

Hale's funeral was beautiful, but went much too fast. It was devastating to see Kenzi in so much pain, but doubly so when she demanded that Bo unclaim her. Ouch! I held out hope until the last minute that Bo would refuse. By giving in and releasing Kenzi, Bo just confirmed Kenzi's belief that Bo didn't care about her. 

Kenzi lost everything. Hale, Bo, even Vex turned on her! Even though Bo has a lot going on, it's Kenzi I'm most intrigued to see what she does next. This human's actions have made sense, but that's not the case for Bo's other human companion, Lauren.

What is Lauren doing? She says it's all for Bo, but how is that the case? If she was spying on the Dark for Bo, where's been the benefits from that before now? Nothing. Lauren turned Evony human, but again I don't see how that's supposed to help Bo. The doctor's efforts may be noble, but they seem misguided. 

I hope her plan (whatever that's been) becomes clear in the finale. She's with Massimo and he ate the seed, so she's in a prime position to save the day. 

Bo and Rainer. I've been covering Lost Girl since season 1 and I've never been so confused by a storyline. The best I can make of the situation so far is that somehow Bo's father and his minions have manipulated circumstances so that this couple would get together. They killed the Una Mens and then got married. 

According to the Knight, Bo's father will now be released from Hel. Was Rainer written out of history not due to his own actions, but to prevent the prophecy from being fulfilled between him and Bo? That would be an intriguing twist, though sad as well. Trick has been blatantly absent since Bo's return. Why?

There are so many questions outstanding with only one episode left. At least Lost Girl has been renewed for season 5 in Canada. Syfy has yet to announce whether it will be airing the episodes or not.

Should Bo have released her claim on Kenzi?

Carla Day is a staff writer for TV Fanatic. Follow her on Twitter and on Google+.

Tags: Lost Girl, Reviews
Want more Lost Girl?
Sign up for our daily newsletter and receive the latest tv news delivered to your inbox for free!
More From TV Fanatic
This week on The Last Ship, Danny gets sick and the crew begins to panic. Is it the virus? Meanwhile, Rachel's vaccine trials continue to fail.
Who was able to successfully problem solve on The Rachael Ray Show this week? Find out now in our review of Food Network Star.
The Masons are reunited on Falling Skies Season 4 Episode 6. Will it be a happy or contentious reunion?
What took place on The Real Housewives of New Jersey Review this week? Read our rundown to find out!
---