There are so many levels of deception required in espionage. When it comes down to it, the lies can almost be seen as truths in the end.
You have to believe what you're saying on some level to truly sell it, even if it's a lie.
On The Americans Season 2 Episode 8, things got even more twisted, as all of the Americans and Russians working on the various projects started to work so closely it was almost as if they were working on the same side without knowing it. It's fascinating.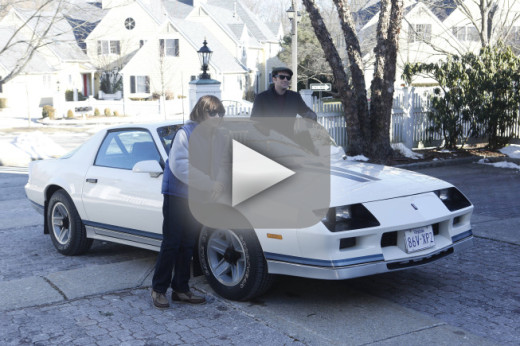 Phillip bought a shiny new American car, a Camaro Z-28. Elizabeth wasn't happy about it, and as he egged her on about liking what they have there, she had a hard time giving into it. Yes, it's different than how she grew up, but just because she has more, it's not better. 

Phillip is rubbing the dirt off of the Camaro with his finger before he meets his handler just like any other American man. Then she tells him a Russian submarine went down because of propeller plans he stole. They were plants. The Americans have planted many such bogus plans all over the country with the hope that they would make it into the wrong hands and kill the enemy. 

Not only is Phillip gutted, but he's guilty about his new car. Suddenly it doesn't feel as good to be in that car, knowing what the people it represents did to his people. What he doesn't know we learn from Oleg.

Oleg's father has the real scoop. The Russians may have had the right plans. They used a propeller intended for a submarine two times smaller in a much larger sub. They tested it only three weeks instead of five months and the captain ran it too hard. Now they're placing the blame on agents on the ground in the United States. It's doubtful Phillip will ever learn that. 

Oleg is a much different character than I imagined. He's smart, fun and cares about his people. He doesn't like seeing them screwed over. He's interested in stealing plans for the stealth plan and he's helping Nina turn Stan. Poor Stan.

Stan doesn't know what the hell is going on, but I have a feeling he's going to feel the boom at some point. He knows a scientist working on the stealth was expatriated by the Russians, but he's working both sides and by going directly to the Deputy Attorney General he's showing his hand. 

Elizabeth had to let Lucia die to get information on Nicaragua from Larrick. She was a wild card and Elizabeth was right, Lucia didn't understand their whole objective. But to be honest, what we learned from this installment is that nobody understands their objective. They're all using each other and it's only a matter of time before it comes back to bite them in the ass.

My favorite part was when Henry was apologizing for going to the neighbor's house to use their video game. He was essentially using the same excuse for his behavior that his parents would use to him if they tried to explain what they do. Nobody would know, nobody saw him and he's a good person. Just like them. They're not bad people. Really, they're not. 

With Henry's understanding of doing bad things and being a good person and Elizabeth's recognition that having more is nice, but not better, I still wonder if telling the kids might not be on the horizon. Especially as both Elizabeth and Phillip continue to show signs of wear and tear. 

Elizabeth seemed sad about Phillip playing that tape for Martha, Phillip couldn't play it for her and offered to start helping around the house anyway and he stopped Elizabeth from killing the trucker. God. Wasn't that scene heart wrenching? If they had killed him, it would have made them too hardened. It couldn't be done.

We're already rolling into the final leg of the season. What do you think is going to happen as it winds down? Chat about it in the comments and watch The Americans online if you're antsy for more!

Will Beeman be able to play both sides successfully?

Carissa Pavlica is the managing editor and staff writer for TV Fanatic. Follow her on Twitter and on Google+.

Tags: The Americans, Reviews