Alicia was just frazzled enough to let a player like Colin Sweeney hoodwink her on The Good Wife Season 5 Episode 19.
What a fun hour! Whenever Sweeney appears, there is always something provocative up his sleeve - and this time was no exception. I daresay it was one of his better stunts to date. 
In an interesting twist, the situation in Alicia's life is sort of following the same pattern as Sweeney's, but Alicia is not quite aware of it.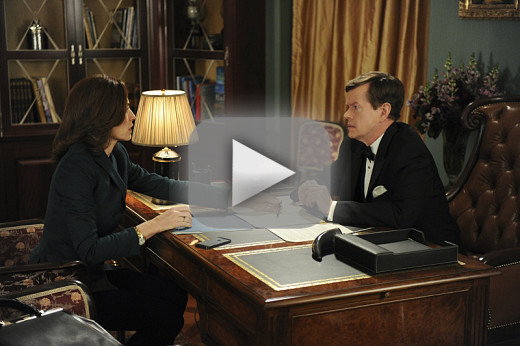 Sweeney ensuring that Alicia was at his engagement party to be a witness while another murder played out under his roof was brilliant.

He even orchestrated it insofar as to fudge the paperwork they were working on so that her attention would be as scattered as possible. He couldn't have known the photo of Zach and his bong would hit Gawker at the same time -- that was just divine providence.

I've often wondered how people can lay blame on witnesses for not remembering where they were at certain times and dates, as if they were just lying in wait for a crime to occur so they could later play back their account of the event in great detail. I barely do anything and I wouldn't make a great witness.

The way they showed how easily your brain can play tricks on you in any given situation and alter the facts to remember it how you expected it to be was really well done. Even an attorney can fall prey under the right circumstances. 

It was a bit dirty of Diane to further manipulate the situation by setting up Alicia through a conversation with Sweeney before she testified, but that's what a good attorney is supposed to do -- sully the witness. They just need to create doubt. 

What a disgusting man Sweeney is. He found the perfect woman. I wonder how long it will be before he tires of her and Alicia (or someone) is representing him again in her murder. He does tire easily.

Finn was thrown to the wolves by States Attorney Castro. Since Castro felt he didn't have any alternatives due to Alicia's good job representing him, he took away all of his cases but, at the last minute, tossed him unprepared into the Renatta case. Not only was being in a courtroom setting too much for him, but he didn't have a case prepared.

Alicia had previously told Finn to run against Castro because it was the one way he could protect his job. He didn't want to go to those extremes until Castro told him he was being fired. As the newest member of the States Attorney's office and Alicia's friend, Peter threw his weight behind him. 

If you thought Peter was going to sit by idly and let his marriage disappear, you were wrong. Much like Renatta taking a life to find common ground with Sweeney (and crediting Alicia's participation as saving her marriage), Peter chose to support Finn in an attempt to show her that he not only cares about what she thinks, but he cares about her. It's not just business for him. Not at all.

I know you all hate the idea that he's trying to win her back, but he doesn't have to be sending her roses or taking her on dates to do it. He can patiently show her he has her back and do things his way. It may work and it may not. We never thought Will was going to be shot dead in a courtroom. You never know what's going to happen.

It was fabulous seeing Owen again. I'm surprised we didn't see him sooner, considering how close he was to the whole Alicia/Will thing as it was playing out, but he was there. His like about Alicia drinking to the news crew was hilarious. There's never enough Owen on The Good Wife.

This was another smart and fast episode that cut back on the drama without losing anything in the process. That's two weeks in a row of top-notch writing and acceptance that the audience is intelligent and willing to let go of the soapy aspect for a while. 

What did you think? Did you find the installment as enjoyable as I did? Watch The Good Wife online and hit the comments to chat about it!

Do you think Finn will be the next States Attorney?

Carissa Pavlica is the managing editor and staff writer for TV Fanatic. Follow her on Twitter and on Google+.

Tags: The Good Wife, Reviews