The old saying was proved true on Blue Bloods Season 4 Episode 22:
Absolute power corrupts absolutely, but it's path is a twisted thing that can ensnare many in it's wake.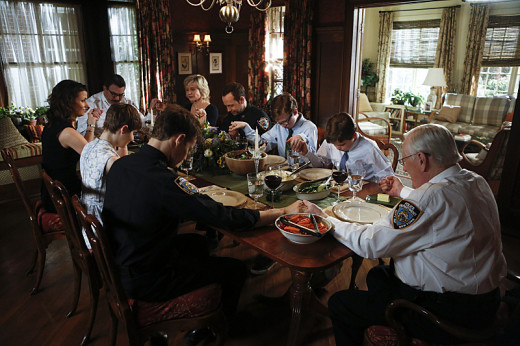 The opening scene of Eileen Clayton jumping from her balcony turned my stomach. The backdrop of that gorgeous city view against a young woman calmly taking that step off the ledge and ending her life was horrifying. 
But the investigation took a strange turn right from the beginning as investigators from the DA's office took over the case. Walt Finney hated Danny with great passion. I can only imagine the history between these two men to warrant that kind of venom, never mind the need to slash his tire. 
The DA's stonewalling was unnerving until Erin began to unravel the threads of the case. This wasn't just a sting, it was a vendetta and more specifically, a power grab. And although Amanda Harris had walked an ethical line in the past, this time she was completely out of control. 
Poor Dino. Don't get me wrong, he messed up big but I still felt sorry for him. What a way to end a career.
When Erin confronted Amanda, the amount of venom that spilled from her lips was astonishing in this Blue Bloods quote…
You waltzed in here like a model posing for some statue of justice. I took pity on some clueless chick who was raised by a bunch of cops. I tried to teach you how a woman gets things done and you turn around and…when the bodies are counted in this, don't you come crying to me.

Amanda Harris
Her disdain for Erin and for cops in general could be felt in every word and it was a frightening thing to watch. 

Elsewhere, Kelly had more than one surprise for Frank.  First off, she called him out for still wearing his wedding ring and his lack of a personal life…and then she resigned. 

I wasn't sure what shocked me more, her resignation as Inspector General or her blatant honesty as she admitted to Frank that her feelings for him made doing her job properly impossible.

Frank's a fool if he doesn't pursue this smart, feisty woman who obviously cares a great deal for him. 

Finally, Eddie and Jamie tried to help a young couple in their pursuit to get married. Well, Eddie tried to help. Jamie kind of went along for the ride. I was shocked when Jamie actually asked them for the truth after they'd tied the knot but I was perhaps even more surprised by their answer. As Cassia said, maybe saving a life is as good a reason as any to get married.

The final Reagan family dinner of the season was comical. Linda's prayer was cute but bordered on silly and I would have appreciated something more from the few short minutes we had left. However, hearing Frank's family make fun of his public speaking abilities was classic Blue Bloods.

What do you think TV Fanatics? Should Frank pursue Kelly for a romantic relationship?

C. Orlando is a TV Fanatic Staff Writer. Follow her on Twitter.

Tags: Blue Bloods, Reviews