Things are starting to get really interesting, as the line between who is right and who is wrong on their way to the ugly future got a little blurrier on Continuum Season 3 Episode 5.
The involvement of Kiera and Carlos was toned this week in favor of plot driving movement from Travis and Dillon. We've definitely reached a place in the narrative where you have to dig deeper to understand the motivations of the characters to figure out for whose side you want to wave your flag. 
As I've noted in previous reviews, the more we see of Kiera's future (granted, her timeline has been altered so I'm speaking only of the one she was hoping to preserve) I realize It's not someplace I'd want to hang my hat.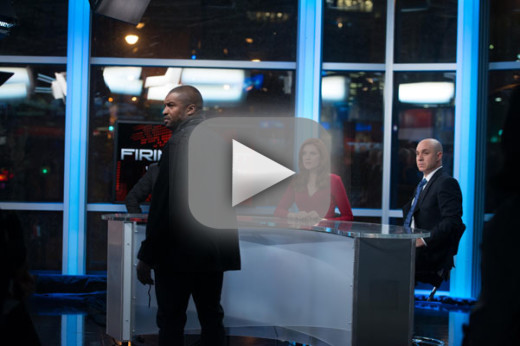 The protectors of the system, the CPS, are bullies and manipulators who force people to go against what's in their heart and to generally choose between the lesser of two evils. There doesn't seem to be an option where an individual's rights outweigh that of the collaborative social system and therefore happiness isn't within reach. 
Enter Travis Verta. Was it just me or did Travis have a funny way of saying hello to the mother of his daughter? Maybe there's a reason everyone thought he was a terrorist even if he didn't claim the title. If he approaches someone he loves by grabbing them by the mouth and smothering them, what does he consider a more platonic greeting? A knife in the back? Geez. Get a grip Travis!
Of all the Liber8 members, it is his motivations I most want to know about. He associates with the other members of Liber8, but they don't seem to stand for anything as much as they are just part of a collective; it's as if they went from suffocation of the system to a similar situation within their own revolution. The leaders, like Travis, lead and everyone else just numbly follows along.
There are wild cards, like Lucas who appears to have a taste for blood, but I don't buy that it's due to a stand on any topic. He's just in it as hard and fast as he can be. If he could do the same thing for the other side with better access to tools and resources, something tells me he'd jump ship.
Travis however, doesn't even want to hear from the people who appear to be on their side. When Nigel Barrow started squawking pro-Liber8 mumbo jumbo while being held hostage, Travis shot him. What Travis told Diana Bolton made me more cognizant of my own reviews:
When I watch your show, I'm ashamed for you and for all your viewers. No awareness, no analysis, just reactionary opinions.

Travis
Travis is easily one of the most complex characters on Continuum and learning a bit about his back story is not only warranted, but essential. His actions during the studio takeover shed some light on where he's coming from, but we still have so much for to learn. 

As an aside, did anyone else catch the studio makeup girl approach Travis to puff his face before he went on the air live? It made me chuckle. In the middle of a hostage situation she's still on the job. He just looked at her like she was crazy.

It was surprising to discover the real reason Dillon was getting to involved with Bolton's "Firing Point" and what was going on with his daughter, Christine. He was putting on an act -- a very risky one -- that involves setting up Christine to infiltrate Liber8 after a stint in jail for going against her father, as he represents "the system."

Even though Dillon asked that she don't go all Patty Hearst on him, after a term in the bin and spending even more of it with the group she admittedly believes have valid points, I have no doubt she'll be on board with Liber8 for real. The person who will likely find out first will be Betty. 

Carlos was wondering why Dillon wasn't using Betty to their advantage, and with Dillon's plans for Christine, now we know. He is trying to get his own mole in there, one he thinks he can trust. Well, an impressionable teenager probably isn't your best bet, even if she is your daughter.

The unknown that could throw a wrench into all of these plans is whatever Garza got on the hard drive that implicated Piron. Since Dillon is on the Piron board, if Piron goes down, he could too. Where would that leave Christine? She might be even more liable to side with Liber8 if they have some real dirt on her father.

Concurrent to the hostage situation, CAlec realized while helping Kiera that she knew about Alec and decided to cut ties with her. He also cut Kellog loose. I still wonder if he won't take his father's position at Piron and leave SadTech to Alec, but right now CAlec is becoming increasingly dangerous.

While it won't be surprising if Kiera has to kill CAlec, it might mean a swift change to her potential future if Piron doesn't influence corporate governance. She needs that future to stabilize her future. But just as we see weekly how difficult it is to decide who to back in the current timeline, Kiera is going to struggle to find her way to her new future.

This was an extremely tight episode with great throwbacks to previous installments. If you need to catch up on any of them, you can watch Continuum online. You're here -- why don't you join me for a discussion on this fantastic series and all of its implications for freedoms and government interference in the comments?

Is your opinion on Liber8 changing at all during Season 3?

Carissa Pavlica is the managing editor and staff writer for TV Fanatic. Follow her on Twitter and on Google+.

Tags: Continuum, Reviews