Hannibal does not pray. 
If he did, he certainly would not close his eyes to do so. 
As Hannibal Season 2 Episode 11 demonstrated, Hannibal is not without remorse - but that does not mean Hannibal is the type of man to cower down to a God. 
Why? Because he is a God in his own eyes.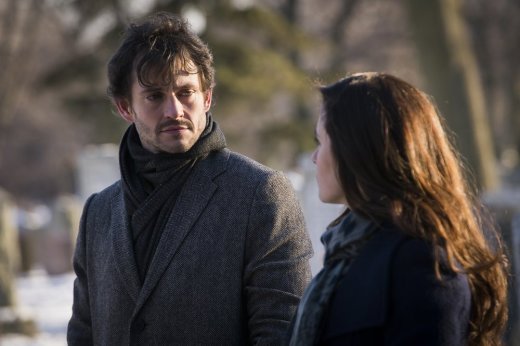 The scene at the FBI when they are confirming that it is indeed Freddie's body was chilling and a little tongue in cheek. Will and Hannibal are simultaneously leading Jack and the team on, while talking with each other through half-truths and metaphors about her deaths.

When Will mentions that Freddie's killer is rising from the ashes to be noticed - at least by Hannibal - it's a moment to play God in the situation and to show that they are all knowing and are anticipating what will be coming next. 

The scene with Hannibal and Will talking with each other about fatherhood, and about Abigail Hobbs particularly, brought out a new emotion in Hannibal: remorse.

I cannot remember the last time Hannibal has ever been regretful about his actions, but he was sad about taking her away from Will. He still believes that it had to happen, but his remorse is so well played that it's almost enough to fall under his spell. 

Hannibal continues his exchange with the tea cup metaphor, that he sometimes drops one and hopes it can put itself back together. Abigail is that tea cup.

She was just young and fragile enough to break easily and never come back together, yet she was able to hold anything Hannibal wanted; instead of taking this chance, he dropped her. Will feels very much like the newest teacup for Hannibal, but this time he will harden Will and make sure he is unbreakable.

Hannibal will cast the mold and Will will be of his design. Hannibal views himself as a father figure to Will. 

However, like all good installments of Hannibal, there's another side to everything. There's the side that we are not allowed to see: the side that Will is very much the same man. It's what he does not want Hannibal to find out.

Will is not rising from the ashes, he's stoking them to smoke Hannibal out. He is still the same man we all know, but he's learning how to play the game and how to win. I bought his performance hook, line, and sinker - and so did Hannibal; his performance is so moving that his former number one fan Alana even bought it. 

Hannibal mentions that, in terms of chemistry and biology, that murder and fatherhood have the same type of effects on a man's body. After Freddie is revealed to still be alive, it looked like Will might actually succumb to that darkness that Mason destroyed Margot's lady parts and the embryo inside of her.

As much as I'm happy Will has kept his humanity intact, Mason is someone I would not mind him taking out. Yet even this scene continues Will's arc of redemption, he's not even willing to take out the man who has wrecked his future child. Rather, Will uses this time to plant seeds into Mason's head about Hannibal. 

Margot's life and relationships as a Verger only get worse by the day. She's trying her best to survive amongst the onslaught of Mason and small digs by Hannibal end up pointing Mason in the right direction. She's been abused and used by every man in her household, and she cannot escape it even in the dead of night.

It's no wonder she does not see men as anything more than sperm banks, that she does not see the Verger men as welcome influences on her child's life (yet more small hints towards Margot ultimately being gay). 

Did you buy in to Will's act that he really did kill Freddie Lounds?

P.S. DId you hear? Hannibal Season 3 was greenlit.

Nick McHatton is a TV Fanatic Staff Writer. Follow him on Twitter.

Tags: Hannibal, Reviews