I'm nearly at a loss for words following Hannibal Season 2 Episode 12. 
At this point, Hannibal makes a strong case for being a vegetarian or a vegan.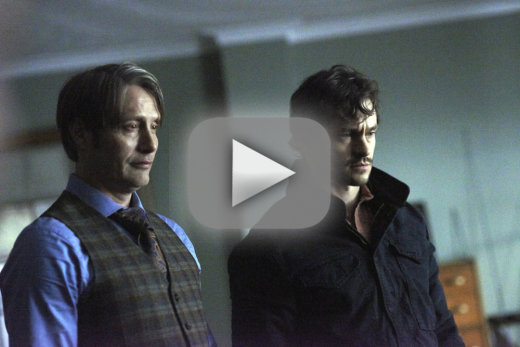 There's a certain point where Hannibal's gore leaves the realm of shock and awe and goes to a place of extremely dark comedy.

Mason Verger slicing his face off and feeding it to his dogs is just about the most stunningly disgusting scene that depicted yet; however, Mason's humor and complete trip on Hannibal's crazy train end up making the moment sort of hilarious as well.

Mason's "I'm full of myself" and "tastes like chicken" were just the tip of the comedy spear in an entirely stomach-churning event. 

Hannibal's subsequent breaking of Mason's neck was an opportunity to show how far Will is managing to get into Hannibal's head - and while the finale is a chance to show that WIll is still the man we all believe him to be, there's a certain interplay between Hannibal and Will that shows that Will's capacity for killing is, indeed, growing.

As Maurier's return demonstrates, Hannibal is a master of persuasion, not coercion; there's still a possibility that as Hannibal's time with WIll continues, and Will finds himself deeper and deeper into this role he is playing, he may escalate toward murder instead of self-defense.

All of Will's dreams of Hannibal continue to show inventive ways of murdering him, after all. 

Hannibal makes Maurier think she needs to kill one of her patients in self defense and that she herself is one of Hannibal's protégé murderers, much like Randall.

In many ways, Maurier is the upper classman that's gone through all of Hannibal's teachings just as Will is going through now. Her conversation with Jack prove that Hannibal only shows his hand when he wants to... and that moment is drawing closer. 

Maurier's well-timed return makes me wonder if there's some duplicity on her part. Perhaps she has made a pact with Hannibal: in exchange for sparing her life, she will put the final pieces in motion for him in regards to Will and Hannibal.

Will's been cunning and smart in his playing with Hannibal, but there's a reason why Hannibal has been so successful for all of this time: he's incredibly intelligent and he's incredibly dangerous. Hannibal could still very well be the one to pull ahead at any more if he has not done so already. 

Which is entirely the point of an eternal chase. 

Is Maurier playing Jack and Will?

Nick McHatton is a TV Fanatic Staff Writer. Follow him on Twitter.

Tags: Hannibal, Reviews
Want more Hannibal?
Sign up for our daily newsletter and receive the latest tv news delivered to your inbox for free!
More From TV Fanatic
On Perception, Daniel and Kate investigate an art heist. Also, Daniel must make a decision about his love life.
Things on Pretty Little Liars looked pretty darn bleak this week as Hanna's friends started to get sick of her but Zack couldn't get enough. Read the review for more insight into the latest installment!
Evan, Paige and Bob confront Russel about his rug theft, while Divya and Jeremiah treat a woman desiring to be a mom. But were those all the surprises the Hamptons had to offer? Read our review of "I Didn't See That Coming" now!
On Chasing Life, Leo makes wishes come true. Elsewhere, Brenna meets her other sister, discovering one more family secret. Read on for more!
---