Following another episode of Salem, we're left with more unanswered questions, along with new ones to contemplate.
The most interesting turn of events this week were that Mary lost any ground she gained in terms of empathy and other characters also slipped down the slope of likability during Salem Season 1 Episode 4.
By the end of the hour, Mary had re-familiarized a freed Mercy, John Alden had killed someone without cause and Cotton raped the woman I'm fairly certain he loves. It was a fairly depressing week all around.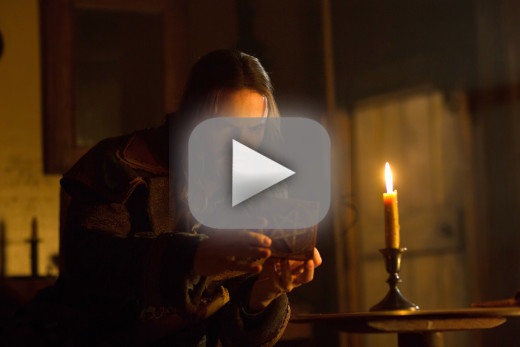 I just have to come to terms with the fact that nothing Mary does will truly redeem her from the evil she has chosen to pursue. She's not the girl John Alden left seven years ago and she never will be again. She may shed tears as she recalls the girl she once was, but her evil intentions trump those tears every time.

I think something that is missing is an understanding of the witches' general plan once they achieve the Grand Rite. They will be in control of Salem -- but to what end? They end the oppression of the Puritans, but is their own tyrannical reign any better? It appears to be the opposite side of the same coin, with both doing as much damage to the people of Salem. Nobody will really win.

If the witches gain control of Salem, it doesn't seem they will ever be satisfied to let the people live as they wish. They would likely either kill them all, drive them all out or continue to enslave them via spells. That's not any better than enslaving them via Puritanical garbage. 

Mercy really received the wrong name upon birth. Her father saved her from possession by releasing her familiar with a cut to her abdomen. Mary knew she lost control and that the only way to get it back was to appeal to Mercy to accept the familiar back into her.

Frankly, I didn't buy that Mercy accepted it. Some things that are said on Salem and how they actually go down to not seem to mesh. Mary may have talked Mercy into opening her mouth in a scream, but she definitely didn't want that snake back. George doesn't want his toad, either, but it's forced upon him. So why the speech to Tituba and the false appeal to Mercy to take the demon back? 

We did learn what George Sibley was doing with the knitting needle. I thought he was likely starving the familiar out of himself and Mary did put off feeding it again to attend a party. Instead, he was stabbing himself to get blood to write a note with a single word on it -- witch. That doesn't answer the questions of who gave him the needle and paper. He can barely move so he didn't grasp them himself. That's a problem for me.

Captain Hook (no relation) arrived in town with dirt on John Alden. While he tossed around this knowledge to a few people, nobody seemed all that interested in hearing it. It had something to do with a battle at war, and Alden letting Hook live with the assurance they would never see each other again while perhaps killing others in cold blood.

Hook, however, was summoned to Salem at the request of Rose. How Rose knew of Hook or why she chose someone from so far away to do her bidding we may never know because Alden killed him after he got the package for her. A package he didn't deliver. Hook got the message from George, told Mary and sealed his own fate when Tituba enlisted Alden's feelings for Mary to intervene and save her from being robbed.

Alden suspects Magistrate Hale might be a witch, but is too blind to see how close Mary is to everything Hale does. He intercepted the package before it got to Rose, but we didn't get to see any more of it than it being a wooden box. Alden didn't appear to have it when he passed Mary at the end.

So who the hell is Rose? Last week she appeared to be Mary's trusted confidant, but this week she seems to be someone who holds the key to bringing Mary down. She also appears frightened of Mary to some extent, as she was very concerned that Hook not mention her name during their dealings.

Let's not forget Cotton Mather, who was left feeling a fool by Mary for allowing a Catholic, of all people, to remove a demon from Mercy. There's something a Salemite likes less than a witch, and it's a Catholic. Mary embarrasses Cotton for allowing both to flourish on his watch and in retaliation, he let's Glorianna's ribbing get to him in the church and he rapes her, tossing coins down at her side.

One moment he's promising her he will protect her and the next he's raping her in the house of the Lord and paying her like the whore that she is (a term he supposedly hates). 

The Puritans treat people horribly. The witches treat people horribly. Now Cotton is treating the one person he cares for terribly and Alden killed someone with very little persuasion. Who can save Salem? Everyone is at odds with who they are and what they believe. We don't know the agendas of anyone.

While it's frustrating not to know, I imagine it would have been even more frustrating to live through such tumultuous times, not knowing what was real or false. Nobody knew who to trust from one moment to the next and that's exactly how I feel watching Salem. It's difficult to pick sides and care for anyone because everyone has such ugliness beneath their otherwise attractive exterior.

What surprised you the most on Salem?

Carissa Pavlica is the managing editor and staff writer for TV Fanatic. Follow her on Twitter and on Google+.

Tags: Salem, Reviews