It was a  "Requiem for a Poodle" on The Real Housewives of New York City Season 6 Episode 12, as the ladies gathered to pay their respects.
We recap where the ashes went in our +/- review...
Sonja's dog Millou passed away a year ago, but she's had a tough time moving on so she's decided to throw a doggy funeral and invite all of her friends. Plus 15 because it was actually touching and sweet in a completely Sonja sort of way.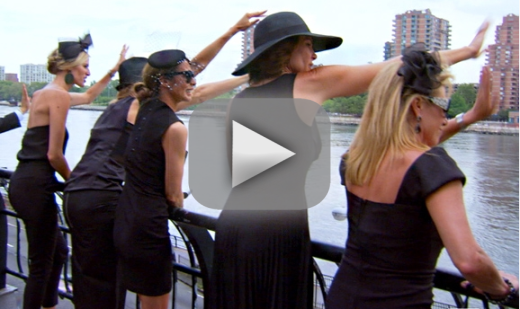 Heather was right. Sonja's had a rough year with the divorce settlement dragging on, bankruptcy, losing her home and her beloved Millou. This memorial was her way of letting go and moving forward.

Of course in true Sonja fashion it also included a Healer who works with A-list celebrities to align her chakras, channel her energy through a drum and indulge in some light therapy. Plus 22 for the entertainment value alone.

Of course just when Sonja had us feeling all choked up, the doggie ashes ended up on the sidewalk instead of in the river. Well, we'd assume Millou spent a lot of time on that sidewalk anyway and in New York City, who's going to notice?

Unfortunately, there was someone who killed all of our warm fuzzy feelings with his return to the show. 

I'll admit, I didn't miss Aviva Drescher one bit during her absence. The show is more fun without her and as if she needed to make things worse, she brought her father, George. Minus 50.

Sonja calls him the "Erection Bandit" and calling him a dirty old man is an insult to dirty old men everywhere. I mean, giving his daughter advice on mirrors and sexual positions is just gross. Minus 25.

But George has no problem telling guests at a dinner party that he met his 20-something girlfriend when he went to her salon to have his scrotum waxed. As a matter of fact I think he relishes in everyone's reaction. Minus 33.

Let's face it. The guy is a perv but he must be a perv with serious cash because the beautiful 25-year-old said yes to his lame marriage proposal so I have to assume that ring is real. 

Elsewhere, Kristen tried to get her career back on track by performing in an exercise video. Surprisingly, husband Josh found the time to stick around and watch. The guy can't take an hour off to be there for his toddler's therapy but he can find the time to make fun of Kristen while she works.  Minus 41. 

Josh was a complete ass as he asked the trainer how long it would take to get rid of his wife's pooch? Not that she has one but even if she did, she could lose it a lot faster than it will take Josh to grow back his hair or figure out how to have some manners. 

Carole held the weirdest interviews I've ever seen for an assistant. I don't know which was more appalling, the fact that most of the applicants didn't bother to bring a resume or Carole's interview questions? What's your favorite flower? What are your feelings on wire hangers? Do you own a gun? 

I'll give Carole a plus 22 for being weird and wacky but what will this person be assisting her with?

Finally, the ladies did some Ramona bashing. The Stinger Singer, the Ramona Monster, and the Master Manipulator. She is all of those things but Sonja just can't stay mad at her friend.

Episode total = -90! Season total = -298!

Did you miss Aviva during her break from the show?

C. Orlando is a TV Fanatic Staff Writer. Follow her on Twitter.

Tags: The Real Housewives of New York City, Reviews, Reality TV