If there's one thing that's become extremely obvious on Halt and Catch Fire, it's that Joe's a manipulator and a schemer. To him, the ends justify the means.
Whether he's providing a story about his scars meant to rally his team (though I couldn't help but think of the Joker in The Dark Knight, "You want to know how I got these scars?") or purposefully making everyone believe that Cameron's BIOS code was lost just so an article would be written about the company's PC journey, the salesman with a thousand speeches will do anything to get what he wants.
He's slick and smooth, but he's really not such a nice guy. Maybe he knows that nice guys finish last?
Ultimately, the core drama of Halt and Catch Fire Season 1 Episode 4 was fabricated. It really begs the question of how much Joe is a team player or simply out for himself while using everyone around him.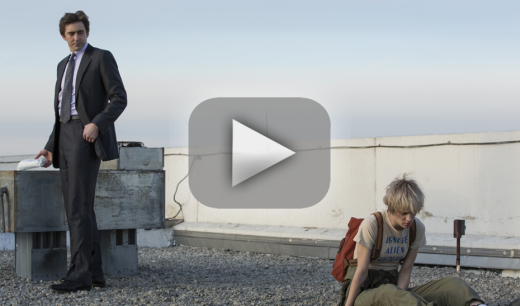 It's certainly interesting that Cameron's choice to confront Joe about his lies at the end of Halt and Catch Fire Season 2 Episode 2 was mostly just an acknowledgment. But with Donna, she tells him his decisions were wrong, time consuming and could even be detrimental to someone like Cameron.

And his response, his spin on making it more of a positive matter such as Cameron will learn to be more careful, isn't a very nice one. And on top of that, he's still sleeping with her. Imagine if she found out?

In fact, not only did she lose it when she thought her code was all gone, she was ready to trash Gordon's house after hearing that they made fun of her. She just seems like an emotional gasket waiting to burst.

Sometimes, her act seems a bit over the top and tiresome, and I'd like to see her grow beyond frustrated and edgy. At least by the close of the hour, she decided to have a normal meal. Maybe a shower is next?

But really, the episode allowed Donna to shine. Not only does she take care of the kids, but she almost seems to be the smartest one on the show. And it's a great dynamic to add, especially because she could be a bigger threat to Joe.

Still, watching her and Gordon work together (well, she did pretty much it all) was a positive way to see them together. She even seemed to be enjoying herself. It's tough though, because she seems to be pushed to the side and under appreciated.

Not only is she having trouble at work (will she get fired and work for Cardiff Electric?), but she seems to have qualms with the way the PC adventure is going. She's not afraid to speak her mind, but she's also showing she's not just a nagging character meant to cause unneeded drama.

I'm liking her the more and more we get to see her roll up her sleeves and dive into the computer making world. Though it does seem, even after she "rescued" the code, the men seemed to say "yay" and then ignore her again.

John on the hand, well, he's not looking to be ignored. Not only did he step up when it came to telling off the reporter, but he presumably had Joe beaten up and taken to the police station. He's sending a message to Joe, but there's no way their power struggle is done.

It's funny that all these people are working together towards this exciting innovation, and yet at the same time, they all seem to be working against each other as well. Is it only a matter of time before things crash and burn?

Should Donna have told Cameron about Joe?

Sean McKenna is a TV Fanatic Staff Writer. Follow him on Twitter.

Tags: Halt and Catch Fire, Reviews