With only 13 men remaining to win Andi Dorfman's heart on The Bachelorette, the stakes are climbing higher and higher eac week.
Tonight is part two of the week's special Bachelorette event and The Bachelorette Season 10 Episode 4 holds the promise of New England scenery and some dramatic fireworks.
Emphasis on the dramatic part. SOMEBODY's leaving in a taxi cab...
Who will remain after this week's train ride and all-star basketball game? The Bachelorette spoilers will tell you. Or you could just read on to find out what went down on tonight's The Bachelorette.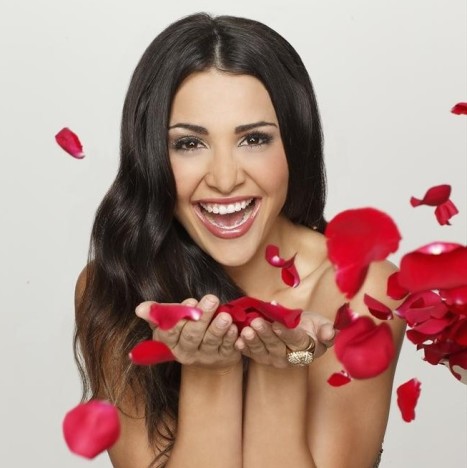 We've jumped coasts from California to Connecticut and Andi says she's starting to have "those beginning feelings" with more than one guy. "Those beginning feelings" is just another cheesy way to say "butterflies" right? 
The guys are elated to start this journey around the world. With Andi. Let's face it, some of them are way more excited to be going around the world than they are to be hanging out with Andi. Andi's just icing on the proverbial cake.
So there are 6 men in a bathtub pretending to toast because that's not weird at all.
Dylan gets the first one on one date in New England, and he has wanted to tell Andi his story, so now's as good a time as any. Andrew tells the guys he's sure Dylan will get a rose tonight and then tells the camera he's "50/50" it. (Again, OF COURSE it's 50/50. He gets one or he doesn't.)
Andi and Dylan are taking a steam train up the Connecticut River after blowing the whistle a half-dozen times first.
I can't decide if this is the coolest date ever or the most boring and scary. They're just...on a train. Together. All day long. So much talking. Dylan starts grilling Andi on what she likes to do for dates and how long her last relationship was and why it ended and that's never awkward. Minus 4.
Dylan broke up with his girlfriend of 8 years because he "just needed some time."
Andi knows that Dylan is dying to open up and tell her his story, finally, but he's just very nervous, which is making this date very awkward. And boring. There's no steam on this date at all except for what's coming out of that train. Minus 5.
The train arrives at the station and Andi and Dylan climb down to go have dinner on another train. Andi teases out of him that there's something he's holding back from her and she says she wants to see the real Dylan sooner rather than later. Plus 2.
Finally, Dylan's opening up to spill this story. He didn't have a father, four years ago he got a call that his sister had overdosed, and his sister's death wasn't easy for his brother. After being in and out of rehab, his brother also died. 
This would be so much more powerful for the audience if we hadn't seen him tell this story to one of the other dudes. 
Dylan doesn't want Andi to keep him around just because of his story, but he does hope she sees who he is and understands that he is who he is because of what he's gone through.
Andi holds it together in front of him but in her camera interview breaks down and feels terrible for bringing him on the one on one date in Connecticut knowing that being there brought up so many memories for him. 
Sharing his story earned him a date rose, and Andi stresses that it's absolutely not in any way a pity rose. It totally isn't. And Andi has one more surprise for Dylan, which is apparently just a train ride back to the hotel. Minus 8.
Now it's time for a group date. 
Andi's taking her men on a date to play basketball and wants to see the guys "get out of their comfort zone." A huge part of me says that playing ball in an arena isn't exactly out of their comfort zone.
Brian is a basketball coach, so this is totally his date. Plus 6.
The WNBA All-Stars are on Andi's team and they definitely take the guys to task.
"I really hope they have more game off the court than they do on the court." -- Lindsey Harding, WNBA All-Star Plus 12.
To see them get a little competitive, Andi divides the guys into two teams and breaks up the bromance. The winning team will get a small group date with Andi and the losing team will return to the suite upstairs.
Brian has Nick V., Cody, Andrew, Eric, and Marquel on his team and he gives them a little coaching. "Hustle and defense wins championships!" Plus 8.
The other guys draw hearts on their jerseys and vow to leave their hearts out there on that court. Plus 4.
The Five of Hearts get the early score and then it just gets ugly as they keep going back and forth and throwing fouls left and right. It's intense and more than a little nasty. 
In the second half, Brian just smokes the other 9 guys on the court and the white team loses all momentum. And the game. They get hugs from Andi even though they're totally sweaty and gross, so that's something, right?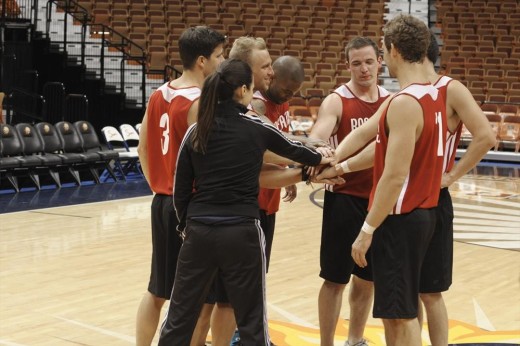 Josh hates losing and he's pissed. "I'm not a sore loser, but it sucks, man." But hey, there's beer in the locker room, so that doesn't suck, right?

Well, it sucks when you know the other guys are taking a champagne shower in their locker room. Minus 12.

Andi and the winners head off for a victory party and she grabs Eric first. She sees potential with him but feels like their relationship has stalled. 

Eric feels like all of their little moments together are so formal and that that's not him. She tells him that all of their times together will be formal because that's how the show operates. They aren't thriving. She doesn't know anything about his family.

So he decides to tell her about his family because that's as good a place as any to start. He went on a trip around the country to see them all before he went on Bachelorette because he wanted to see them. He was raised Mormon, but took himself out of the church when he was 26 because he believes in living life by what you really feel. 

Andi feels like the air has been cleared and they're back on track. Plus 2.

For his alone time with Andi, Brian takes her down to the basketball court and makes a throw from the half-court line. Then he doesn't kiss her. Minus 8.

Nick V. wastes ZERO time kissing Andi, or rather, she wastes zero time pulling him in for a kiss. These two are ADORABLE together. Absolutely, amazingly adorable. Plus 25.

Nick? Josh? Nick? Josh? AHH!! Who to choose!?!?

Marquel, Cody, and Andrew didn't snag any time alone with Andi during the date. Sucks for them. Brian gets the date rose for his mad basketball skills. 

Andi's next one on one date is with Marcus, who already knows he loves Andi because he believes in love at first sight and feels it with her. (Yes he said that.)

They're going rappelling down the side of a skyscraper because Andi's scared of heights. Plus 5. Scratch that. They're BOTH terrified of heights. Plus 10.

Marcus doesn't have any plans to look down and Andi definitely looks down. He asks if she has any famous last words, and she does. "F*ck." Plus 14

He starts down the side of the building and she can't make it off the ledge and he starts instructing her like he's some kind of rappelling professional which makes me think maybe he was lying about that whole "scared of heights" thing.

Can you imagine if you're the person who works inside that building and periodically throughout the day you just see the feet and crotches of people rappelling down the building?

To get her down the side of the building, Marcus asks Andi about her mom. Mama Dorfman plays mahjong and golfs and she's nicer than Andi.

While they're making it down the side of the building, they stop to make out. Then they continue rappelling in front of the room where all the other guys are staying and Marcus says "can we kiss in front of them?" 

"No." Plus 25, Andi.

They made it down the side and to the roof, did a little hopping around, and headed out for the rest of their date.

While at dinner, Marcus throws a napkin over the rose because it makes him nervous, which Andi finds endearing. He hasn't dated in three years and Andi's the first girl he's opened up to in all that time. 

Andi, the attorney, says she's a very trusting person. I'm wearing my Skeptical Goggles at that. 

Marcus gets the date rose and then they head out for a concert with Jon Pardi where they have their own little stage to dance and make out on. 

"I'm falling for you, quicker than I ever imagined it would happen. I think I'm falling in love with you. It's the scariest thing in my life right now." Those are all things Marcus said to Andi while they danced on that stage. 

After her dates, Andi's chilling in her hotel room on the morning of the rose ceremony when there's a knock on her door. She has a special delivery from...a secret admirer. LAME, DUDE. Nick V. didn't sign his flowers "from your secret admirer." Minus 12

The guys are all stressed heading into the rose ceremony, even the ones with a rose. Andi, however, feels calm. As soon as she finishes her speech to welcome the guys, Tasos jumps up and asks for some time with her where he can open up and talk to her.

Instead of talking about himself, he asks how she's doing. Plus 4.

Brian interrupts them and Tasos shakes his hand. Class act, Tasos. Class. Act.

Brian takes her back to the basketball court so he can kiss her at center court. Plus 10. 

Marquel grabs her next and looks amazing. She says there's amazing potential there, but keeps her distance in their chat. It's weird. He's hilarious and they look great together, but Eric busts in and decides to tell Andi whatever she needs to know to be comfortable keeping him around. 

Oh, wait. He feels like he's been really open with her and doesn't understand where she was coming from when she said she didn't know him well. He turns it around on her and says he doesn't know much about her and calls her a "tv actress." 

OUCH. Minus 18.

He says he sees two sides of Andi and sees her poker face every day because she has to be fair to the other guys. She clearly does not think she's wearing a poker face at all and talks about how she appreciates their openness while completely missing the point.

She starts crying and the other guys can hear her crying and Josh says "she shouldn't be crying right now..." 

She tells him he has no idea how exhausted she is and how offensive it is that he's looked at her and said she's wearing a poker face and he doesn't know how hard it is to look at guys and send them home. So she sends him home. Plus 12.

Andi addresses the rest of the guys and says that if they think she's joking about all of this, they can "walk their asses on out." Because she's exhausted, y'all. She's so exhausted and this is so real to her. So real.

Chris Harrison tells us that we just watched Eric's last scene on The Bachelorette and because he died tragically in a paragliding accident, instead of a rose ceremony, Andi and Chris are just going to talk about Eric.

Andi says that this season is dedicated to him and he was a part of this and there's grief and shock and sadness. She really liked his heart and his charm and the way he pushed boundaries and that's why she gave him the first one on one date. Other guys, however, were just more open with her and she was more open with them and their relationship fizzled and never would've worked out.

Her last conversation with Eric wasn't necessarily the last conversation she would've wanted to have with someone, but unfortunately, that's how it'll end. 

Eric's death changed Andi in "so many ways" and she tears up as she talks about the ways his death affected their "family." 

Tasos was the only man eliminated during the rose ceremony since Eric left in the middle of the cocktail party. 

EPISODE TOTAL: 108 SEASON TOTAL: 197

What did you think of tonight's episode of The Bachelorette? Did Eric Hill deserve to be sent home after his conversation with Andi Dorfman?

Miranda Wicker is a Staff Writer for TV Fanatic. Follow her on Twitter.

Tags: The Bachelorette, Reviews, Reality TV