Sonja did the walk of shame on The Real Housewives of New York City Season 6 Episode 14.
Elsewhere, Aviva helped her father spread rumors of his sexcapades, which we recap it all with our +/- review...
We start off back in Saratoga with Sonja telling LuAnn's driver that she needs to find her phone in case she gets a booty call tonight. Minus 20. Sonja obviously never understood the concept of TMI.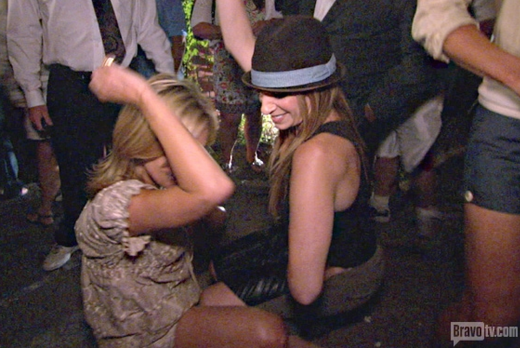 After Ms. Morgan's hissy fit is over, the ladies all head out for a night on the town, as if Sonja needed more alcohol. But the Cougar Mama has no problem downing a few more and shimming her own booty up to anyone who seems to take notice. 

Back in NYC, Sonja invites Kristen over for an early facial, only to do the walk of shame or as Sonja refers to it, her victory lap.  But honestly, did she need to flash her hooha at the camera?  Minus 33.

Even the woman who gives Sonja facials is an attention whore but I couldn't believe that Sonja just sat there and said nothing, making it look as though she had slept with Russ while he was still dating Carole. Now that's just sleazy. Minus 21.

Speaking of sleazy, let's talk about Aviva and her father. 

A big plus 50 because we were not subjected to actually seeing George on screen this week. The man makes my skin crawl.

And apparently the apple doesn't fall far from the tree. Aviva feigns embarrassment but seems to love to share stories about her father's sexcapades. Minus 25. Who goes to a charity event and tells all of their friends about their father's threesome the night before? 

LuAnn was right to be upset. That poor speaker was up there talking about her mother dying of cancer and Aviva and the ladies were giggling about George's latest conquest.

But not so fast…leave it to Ramona Singer to get to the bottom of things. Plus 15. Her direct questions might be downright rude but Ramona gets the story. Aviva's entire story about her father having a threesome with Cody and Miss USA at her house was completely bogus. 

Is it all just Aviva's way of making herself seem relevant? Is she that desperate to keep her place on the show that she'd pimp out her dad? (Not that he needs the help!)

Episode total = -34! Season total = 429!

You tell us, TV Fanatics. Did Aviva invite Miss USA to LuAnn's party just to hype this story about her sleazy father?

C. Orlando is a TV Fanatic Staff Writer. Follow her on Twitter.

Tags: The Real Housewives of New York City, Reviews, Reality TV
Want more The Real Housewives of New York City?
Sign up for our daily newsletter and receive the latest tv news delivered to your inbox for free!
More From TV Fanatic
On tonight's The Bridge, Marco is made an offer that he initially refuses. Will he agree to go after Fausto?
Things go from bad to worse for Molly on Extant as she tries to escape the prying eyes of the ISEA but chooses the worst place for safety. Read on for a full review.
Mike is on a war path on Graceland... but is he headed in the right direction? Read our review of "Los Malos" now to find out!
On Suits, Rachel tells Mike about the kiss. Where did it go from there? Find out now!
---