The hunt for Cheng was on in 24: Live Another Day Season 1 Episode 11, as a voice from the past haunted both Jack and Audrey.
I loved the way Cheng said, Bauer when he saw Jack on that grainy video. It was as though he saw his worst enemy that just wouldn't die, and I guess that's probably close to the truth - but it's Cheng's own fault.
He had Jack for a year and chose to torture him instead of kill him. Looks like that decision has come back to haunt him.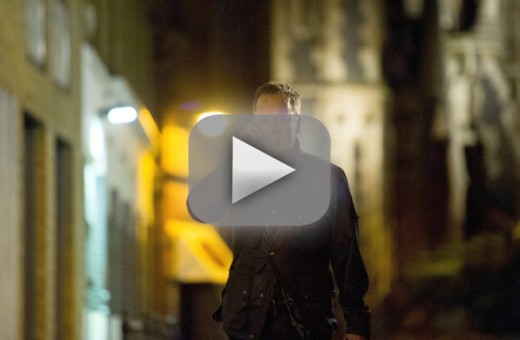 Jack knew Cheng's voice immediately, as if it came straight out of his worst nightmare; and I suppose it had. In the middle of all of that, I'd almost forgotten that Cheng had tortured Audrey as well. He's the reason Audrey needed years of psychiatric treatment.
Unfortunately, Jack's search for Cheng was sidelined by Mark Boudreau. Mark somehow manages to throw a monkey wrench into things whether he means to or not. 
I'll give Mark credit. He put an admirable spin on trying to turn Jack over to the Russians, but it's hard to justify falsifying the signature of the President of the United States on official documents. Even harder when those papers send your wife's ex-lover off to a Russian gulag. 
I loved Jack and Audrey's conversation in this 24 Live Another Day quote…
Jack: Some things are going to happen and I just don't want you to hate me forever.
Audrey: Jack, stop. I could never hate you. I never have.
I only wish it had been said in person. If I have one complaint about this season, it's been that there hasn't been nearly enough scenes between Jack and Audrey. With only one more hour left, I really wonder how much more we'll see. 

I was happy to hear that Heller was having none of Mark's excuses and planned to have him arrested for treason. I wish that had happened, especially since the attempt to set up Stolovich failed so spectacularly. Jack really did look horrified when the big guy bled out. He was Jack's only lead to Cheng. 

Or so he thought. Apparently Cheng's now toying with Audrey. Not only don't I understand the point (but I'm assuming they'll explain it next week) but how did Cheng know about her meet? Did he have a contact on the Chinese side... or the American?

And what about Chloe? It was great to see her go all badass on Cheng and his men. I guess she's learned a little something from Jack over the years, plus she's got nothing left to lose. 

Tell us, TV Fanatics, who do you think won't survive the last hour of 24: Live Another Day?

C. Orlando is a TV Fanatic Staff Writer. Follow her on Twitter.

Tags: 24: Live Another Day, Reviews