For the most part, each hour of Halt and Catch Fire focuses on a specific aspect of the PC project, along with the emotional struggles for Joe, Gordon and Cameron along the way.
How can it be lighter and faster? What about innovation beyond that? What's it going to look like? What's it going to be called?
Clearly, a lot goes into making a computer, including plenty of money to finance it. Unfortunately, Cardiff Electric is running out of that and finding a designer only adds to that problem.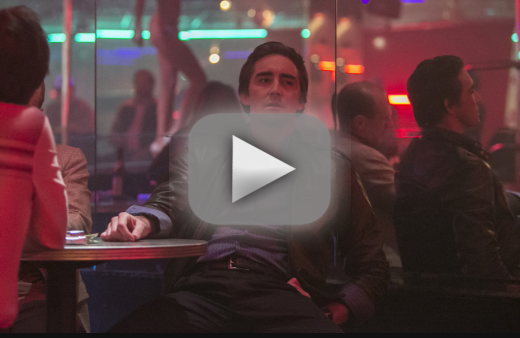 And while the project may have caught a break with its innovative designer (seems like the right fit with all that innovation), it was also attached to Joe's personal past.

His former flame, the man who told Joe he loved him, suddenly walked back into his life. But that caused him to be all flustered and shouty, and Cameron questioned whether she could measure up to his past relationship. And she got drunk with her punk friend.

I guess you could say that Joe's sexuality has been called into question (especially in Halt and Catch Fire Season 1 Episode 3), but truthfully all Halt and Catch Fire Season 1 Episode 7 "revealed" was not that he had a relationship with a man but that he's looking to move forward to the future. For everything.

His past relationship is done, regardless of it involving a man, and he's more interested in going back to Cameron and letting go of the past, even if that means losing the design.

But that design is the future, so I never doubted he would actually not get it.

I do guess its lucky his flame decided to do the work after all. But he's sick? With what? And will that play into anything down the road?

But it is interesting that this episode did seem to dive into the sexuality aspect of Joe, even including a scene where he was called queer. If anything, I think Joe's firmly established himself simply as himself. Flawed, sure, but not put in one group or the next. He's on a mission to be the best, and that doesn't have anything to do with whether he's gay or not.

Although, it was great to see John, a character who has evolved from something of a caricature and who disliked Joe, to defending him and punching the guy out. Bravo, John.

And I love how passionate he has become about the PC project, getting caught up in his belief that their project is the future. He may have gotten sucked into the world by accident, but he's certainly advocating to see it through.

Unfortunately, when it came to Gordon and his wife, Donna, there was a certain tediousness to watching their scenes.

Gordon seemed like a crazy person, grumpy at being pushed around, telling depressing bedtime stories, digging holes in search of the Giant. And I know that at some point, Gordon will rise up and take back some control of his destiny and the computer project, he has to, but even though I liked him getting some quality time with his daughters, I just wasn't engaged in watching him act strung out and in la la land.

Maybe that's his process and maybe that's what happened last time. Except Gordon broke and became the man Joe needed to spark back to life.

On the other hand, Donna continues to be amazing at everything from initiating Texas Instruments' end of their computer era (and the company did actually announce in 1983 that it was exiting the home computer business) to masterfully playing the piano.

But I just wasn't interested in the extraneous storyline that led to the obvious moment of Donna and her boss getting a little action on. Thankfully, it didn't really go anywhere (and I kept waiting for the moment between them to happen), but did she really need to race home in a rental car when they were flying back the next day? I guess that was meant to acknowledge her desire to rush back to Gordon?

I guess I'm not surprised that Donna initiated the kiss, especially because Gordon has been so focused on his work rather than the relationship. But what's to become of that? Can Donna and Gordon save their relationship? Will the kiss be simply glossed over at work?

Maybe it's just time Donna joined the Cardiff Electric team instead of the show trying to give her a side story that's just not that exciting, She's supposed to be beneficial and brilliant, so why not use that? Not stories about almost cheating on her husband with her boss.

In the end, the character's hit some important beats, overcame their "giant" obstacles and continued to move forward with the project. But I wouldn't be surprised if next episode did something similar.

Though who knows, with only three episodes left of Halt and Catch Fire Season 1, maybe the series will ramp things up and fire on all cylinders towards the finale.

Did you think Donna would cheat on her husband?

Sean McKenna is a TV Fanatic Staff Writer. Follow him on Twitter.

Tags: Halt and Catch Fire, Reviews