Andi Dorfman and her remaining suitors have descended upon the Dominican Republic for The Bachelorette Season 10 Episode 9.
The dates this week will lead to one of these men proposing to Andi during The Bachelorette finale in two weeks. (The Bachelorette spoilers will tell you which man that will be...)
She'll have the opportunity to invite each of them to the Fantasy Suite for an evening, but will the invitation be extended? Let's find out with our +/- review!
Andi is really, really excited to continue her (completely unrealistic) journey to love in the Dominican Republic. But before we can get to dates and Fantasy Suite invites, we'll take a gratuitous walk down 8 previous episode lane.
Oh look, Andi Dorfman in a bikini. Finally? Plus 2.
Andi's first date in the DR is with Nick Viall, whose story of his most recent breakup doesn't jive with what his family says about his most recent breakup. Andi must get to the bottom of this. But first, a helicopter ride!
Nick totally plans to tell Andi that he loves her today. He's been waiting to tell her since Belgium.
Instead of looking at the DR while flying above it, Nick and Andi just make out. And of course they land on a private island to spend their day together. 
Andi says their passion is, like, adult romance-level passion. Is Nick Viall Christian Grey?? 
After swimming in the ocean and Nick carrying her out of the water, Andi wants to know what happened with Nick's last breakup and why his family thinks he was so upset about it when he didn't seem to let on that he was that upset.
Nick says he's totally okay taking the risk getting hurt this time because "that's life." Andi is totally concerned with the idea of breaking Nick's heart instead of worrying about her own. Minus 12
When he tries to tell her he loves her, Nick blows it. Like, KABOOM. He can't spit it out and Andi just says "Well, we're at the beach. I want to snorkel." That's what we call being shut down, Nick! 
Nick might have blown his chance to tell Andi he loves her during their day together, but he's DETERMINED to tell her during their dinner. Right after he reads her a fairy tale he wrote, of course. 
Okay, okay, the fairy tale is kind of cute. Kind of. Plus 10.
Except he uses the fairy tale to tell her that he loves her which is full of cheese. Come on, dude. Man up. 
They're going to the Fantasy Suite together, where he says his greatest wish is just to talk her ear off all night long. He takes her behind a tree to tell her what he loves about her. It's like he's too ashamed to have his face on the camera when he says "I love you." But finally, he says it. Plus 12.
They head into the Fantasy Suite together and turn out the lights.
Andi's second date in DR is with Josh Murray. Andi really wants Josh to put out there what his feelings are. Again. "Falling in love" isn't "I love you" so she's not sure if that's enough.
Jeez, lady!
Josh speaks Spanish, which is a turn-on for Andi. But that might have been the Dominican aphrodisiac Josh bought from a street vendor. Plus 10.
Andi loves that Josh is a terrible dancer but doesn't care and dances anyway. Unlike Juan Pablo, perhaps?
To surprise him, Andi takes him to watch a little league baseball game, which prompts him to call their date a "grand slam." Cheesy metaphor aside, it's really sweet. 
Josh is really good with the kids. 
After their game, Josh just says "I love you." No hemming and hawing like Nick. He's just out with it. Plus 25.
Josh might have said that he loves her, but Andi needs to know if he can be more serious. He says that while they were playing baseball, he was picturing what their life would be like together, so I'd say he got more serious.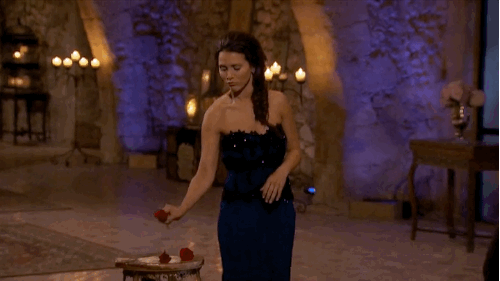 Especially when he says "the next person I say 'I love you' to is the person I want to marry." Well then. He's definitely serious. But she's still unsure because it took him so long to tell her how he felt.

She gives him the Fantasy Suite card and asks what he thinks. He thinks "yeah, absolutely." And she thinks it's a chance to see if this is really going to work. 

Quick question: Is it a DIFFERENT room every night? Or does she take them all to the same room? Because wouldn't that be sort of weird? Am I just overthinking this?

For date 3, Chris and Andi go to a farm. Because Chris doesn't get enough of those in his regular life. Minus 8.

She's taking him horseback riding through the Dominican countryside, but she's afraid to ride horses. Chris basically picks her up and tosses her on the horse. Plus 5.

He's a natural, of course. Andi's horse gets spooked while Chris is talking about how the farmers in the Dominican are farming like it's still the 1930s and he just can't believe it. I can't believe that he can't believe it, or he was really edited to sound a little douchey just now.

After their ride, Andi will be sore tomorrow. BA DUM CHHHHHHH.....

Andi really loved meeting Chris' family and the welcome she received from them. 

"I loved when you just hopped on my lap and went to town" --Chris Soules, ladies and gentleman. Plus 45.

They close out the first part of their date by playing "Ghosts in the Graveyard." Plus 9.

Andi's not sure if Chris should get a Fantasy Suite invitation. She needs a sign to tell her what to do.

She's really hung up on how great Iowa was but can she see herself there forever? She really doesn't seem sure. Chris asks how she feels about Iowa and where her gut is and she says it's a struggle. Chris acknowledges that he understands how hard the transition would be for her.

Andi brings up the Fantasy Suite and tells Chris that she's at a crossroads when it comes to him where she sees this amazing man in front of her but knows that his life is so much different from what she's used to.

He tells her he's in love with her and she says she's just not sure she sees that. She's not sure if they have a foundation, and she could blame it all on Iowa, but she can't when she has so much respect for him. 

Her head and heart just don't match up.

She bawls as he walks out and he says he didn't see that coming and it hurts to be booted. He put everything out there and had his heart broken. He's sad and disappointed and has questions as to "what the hell just happened." YOU AND ME BOTH, CHRIS SOULES.

The next day, Andi's feeling fine about her decision to have narrowed things down to Josh and Nick and says she would've ended up with those two no matter what. 

Ugh. Knife to the heart when Chris watches that. Minus 13

She sits down with Chris Harrison to talk about sending Chris Soules home and what that was like for her. She tells Chris that she just didn't have the foundation for love with Chris that she has with the other two, so she knew she had to send him home.

Andi has a bit of a different spin on how her date with Nick went and how he told her he loved her. Just a little. 

She thinks it's great that she has two very different guys in front of her that she likes equally as well and hopes they'll both accept her rose. And no, that's not a euphemism.

Nick and Josh, should they accept Andi's roses, will be invited to meet Andi's family in Atlanta. 

After walking Josh in, Chris Harrison walks back out only to walk back in without Chris Soules. RIDIC. Minus 8.

In the least formal and least climactic rose ceremony of The Bachelorette Season 10, Andi tells Josh and Nick that Chris is not there like they maybe thought he was invisible and tells them both that she didn't see the possibility of spending the rest of her life with him and that's why he's not there.

She hopes they'll both accept her rose and if they won't, she asks for their honesty. 

Nick Viall accepts Andi Dorfman's rose. So does Josh Murray. They'll both meet Papa Dorfman. Here's hoping they don't crash and burn like Juan Pablo did.

EPISODE TOTAL: +77 SEASON TOTAL: +10

What did you think of The Bachelorette Season 10 Episode 9? Did Andi make the right call in sending Chris Soules home? Who should she give the final rose to on the finale?

Miranda Wicker is a Staff Writer for TV Fanatic. Follow her on Twitter.

Tags: The Bachelorette, Reviews, Reality TV