In a step Andi Dorfman takes very, very seriously, she'll visit the hometowns of her remaining four bachelors on The Bachelorette Season 10 Episode 8. 
She's sure to tell us it's exciting and nerve-wracking and a big deal meeting her potential in-laws. A big, big deal, you guys.
The Bachelorette spoilers will tell us which city Andi will be calling home when all is said and done, but it's way more fun to watch and rate it, don't you think? So let's do that.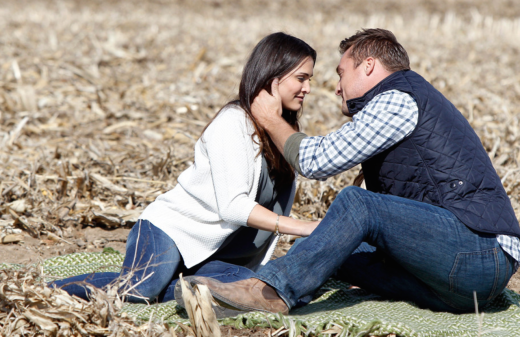 Andi meets Nick in Milwaukee, WI first. He takes her to a market to show her his favorite place in his city, and of course they wear a cheese hat. Plus 5.
Nick is worried his parents will give Andi the heave-ho and not support his plans. That'll be a problem for him.
They go to a brewery and Andi tells Nick she's never been to a brewery before. Sweetwater Brewery is RIGHT DOWN THE STREET from her in Atlanta and she's never been? WHAT? Minus 20, Andi. 
Nick knows how to dance the polka. Minus 5.
After a day spent around Milwaukee, Nick drives up to his mom's house and says "I've mowed that grass a lot..." or something like that. Not a euphemism. 
Nick's family plays 20 questions with Andi and Nick over dinner. Nick tells his sister that he loves Andi, is IN LOVE with Andi, and his sister's not really buying it. 
She asks if Nick can be himself around her "unapologetically." That's an interesting choice of words. Maria goes to talk to Andi.
Maria doesn't want to see Andi hurt Nick but likes that Nick's heart seems open. Nick's littlest sister Bella has questions for Andi.
"What do you like most about my brother?" Bella asks. 
"I like that we have a mental connection," Andi replies. "Do you know what that means?" Minus 8.
Bella can't be more than 12, so this is kind of bizarre. But then Bella plays hardball and asks if Andi "truly loves her brother." Good dodge, Andi. 
Nick tells his mom that Andi is his missing half. Mom is scared that Nick will get sent home. 
"I think I'm her favorite," Nick replies. Uh oh.
Andi gets the green light from Nick's family and puts her in the car without saying "I love you." He thinks he'll have more time to tell her that later when it's finally just the two of them.
Chris is ready to show Andi Arlington, Iowa, a town of 758 people. This is a different sort of life for Andi Dorfman, for sure.
To start the date, Andi shows Chris his house. His very, very large house and his farm. Plus 12. 
This is weird for City Girl Andi who's used to everybody living in apartments or townhouses and he has acres and acres of land. He takes her for a ride in his tractor and y'all, she thinks his tractor's sexy. Plus 10.
Chris IS the hottest farmer ever. EVER ever. 
They get out of the tractor and spread out a picnic in the middle of a field and talk about who she'll meet that evening. He also has a big family, but how else does all that farm work get done without a big family?
Chris says his family won't be hard on her because they trust him. 
Ultimately, Chris wants her to be happy wherever she lives and knows that it would be a challenge for her to be happy in Iowa. 
"Why couldn't you be a D.A. here," Chris asks. Good question. Better question: HOW CLOSE IS STARBUCKS!? (Also, LOLOLOL that Andi isn't a city girl because she grew up in the suburbs and her family has a lake house in Alabama.)
Chris wins eternity by telling Andi he loves her with an airplane pulling the message behind it. Plus 100.
Chris' family is very excited to meet Andi and his mom is so sweet looking! 
His sisters spill every single piece of dirt they have on him, including the fact that he occasionally farts and also went commando on the weekends as a child. Plus 12.
Chris tells his mom that he's falling for her and they both wonder what Andi would do there. Chris says that's the biggest hurdle for the two of them. 
Mom grew up in the city and never visited a farm until she met Gary. She learned to do it all for him. Plus 10.
Andi talks to Mom and Chris' mom tells her that it's possible to have both kids and a career. And it doesn't matter where you live. It matters what's in your heart. 
Chris' mom REALLY wants Andi to choose Chris. REALLY. After this hometown date, I really want Andi to choose Chris.
Josh lives in Atlanta, but his hometown is Tampa, FL, so that's where Andi is now. 
He takes her to the baseball diamond to throw a ball around. And then she breaks a baseball bat. Plus 7
Josh is all about his brother Aaron and says Aaron is the reason he gave up playing baseball. Now that Aaron is preparing for the NFL draft, it's time for Josh to move on with his life. 
As Andi meets the Murray's, Aaron says "you look just like everybody else!" making note of her dark hair. Plus 10.
Josh starts crying with he sees his family and introduces them to Andi. Then he earns points for his dog, Sable. 
Before dinner is even served, Aaron starts talking to Josh about NFL prep and it seems like none of them are even interested in Josh and Andi. It's weird.
Mama Murray, Lauren, can tell that Josh is in love, but she doesn't think that Josh will be ready to cut the cord from his little brother if Aaron's playing in the NFL. 
Josh's dad asks Andi if she thinks she'd be coming to NFL games on Sunday with the family. She'd love to, she says. Then he asks his little sister about the weekend thing and Stephanie says that she's sure a fight would come of it, but that's marriage. Compromise. Plus 10 for having a good head on her shoulders.
When Josh talks to his mom, they both cry. Plus 5. 
Andi thinks she can throw her hands up and relax about how involved Josh is with his family after seeing them all together. Then they all go play football in the yard. 
To complete her round-the-U.S. tour, Andi flies to Dallas, TX to meet Marcus. He takes her for a day of his life by driving her around the city and kissing her at red lights.
Andi's hoping that the day will help her catch up to Marcus' feelings for her. So he takes her to a bar to ply her with champagne so he can strip for her. Again.
This is...a day in his life? Minus 12.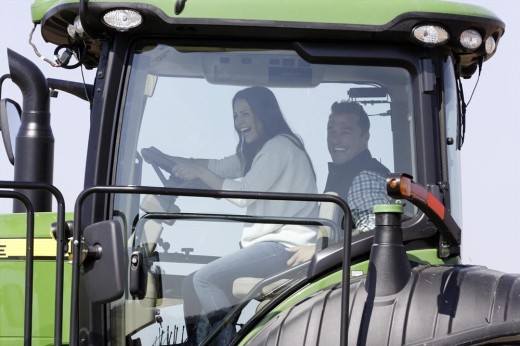 Marcus' family is excited to meet Andi and their eyes light up when they see her. His niece Finley made them bracelets. Plus 8.

His sister recognizes that Marcus has a tendency to fall too fast, and so does Andi. His sister also knows that he can be an overcaring person. 

Marcus tells his brother Conrad that he's thankful for the fact that his brother was there after their father left and cries while he says it. 

Marcus' mom tells Andi that he doesn't ordinarily open up, or that he's very selective about who he opens up around. That's an interesting turn given how he says they're so close and she doesn't seem to know him the same way that his sister knows him. 

Before she leaves, Marcus tells Andi he loves her and then tells the cameras that she's his soulmate.

All of the hometown visits are over and everyone has been summoned to Chris Harrison's house in LA. They'll soon learn that fellow bachelor Eric Hill died that morning, but first the suspense and drama must be appropriately drawn out.

They're just waiting on Andi so he can "tell everybody at once."

Andi and Josh start to cry. Nick rubs his temples. Marcus has to take a walk. 

Andi follows to see if he's okay and he doesn't say anything. He just comforts her and breathes deeply. The crew and producers all come in to comfort Andi and the guys and she begins to cry harder thinking about her last conversation with him and how she kicked him out.

It's a tough moment for her, for sure, but it's also a tough moment to watch.

Now it's time for the cocktail party and rose ceremony, but first Andi and Chris Harrison need to have a sit-down. "Life happened last night," Chris says. And Andi cries. 

He asks if she's worried about making a mistake this week in light of the news about Eric Hill's passing. Then he tells her that she doesn't have to be tough and strong and pretend that everything is happy. 

After four hometown dates, Andi has a choice to make. One of these men has to go home and three of them will head to the fantasy suite. Maybe.

But first Andi has to take a minute to cry and compose herself again. Not that we can blame her, really.

The gentlemen moving on are...

Marcus is going back to Dallas, TX with a broken heart. His declarations of love couldn't get him all the way.

Andi walks him out and just says "talk." He doesn't know what to say, which is pretty much par for the course when someone breaks up with you.

She knows he would give her the world, but she's just not in love with him. 

EPISODE TOTAL: +143 SEASON TOTAL: -67

What did you think of The Bachelorette Season 10 Episode 8? Did Andi make the right call by eliminating Marcus?

Miranda Wicker is a Staff Writer for TV Fanatic. Follow her on Twitter.

Tags: The Bachelorette, Reviews, Reality TV