The Real Housewives of Orange County Review: Mexico Is For Lovers
by Miranda Wicker at . Updated at . Comments
Vicki Gunvalson took Brooks Ayers to Puerto Vallarta and invited Shannon and David Beador along for a little R&R.
Will that be what the disgruntled couple finds in Mexico? Or will they just find more dysfunction on The Real Housewives of Orange County Season 9 Episode 11?
(Are Brooks and Vicki really the couple to be dishing out relationship advice? Hashtag NOPE!)
Let's see how it all plays out with our TVF +/- review...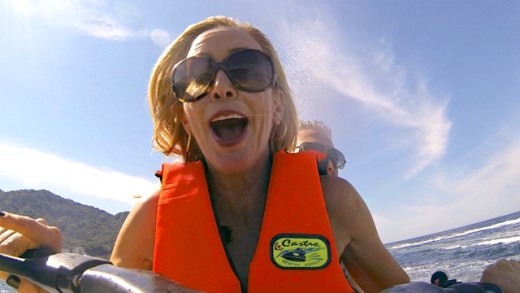 Shannon says that she and David have moved past the email, but the experience left her rattled. They go up to pack for their trip to Mexico and he tells her to wear shorts to lunch.

"When have you ever seen me wear a pair of shorts?" 

They're really looking forward to going to Mexico and seem to be in a better place. Plus 8.

Heather's a very self-aware woman. She's so self-aware she hired a personal chef to do the cooking in her house because she's just not good at cooking. She's totally cool with cleaning up her own dishes though. (Or having the nanny do it.) Plus 10.

Vicki considers Puerto Vallarta her second home and can say about 10 words in Spanish. Minus 2.

She thinks that she and Brooks are the kind of healthy couple that Shannon and David could benefit from being around. I'm laughing too hard to give that statement points or take them away.

But a big ol' minus 25 to Tamra for running her mouth to Vicki about Shannon and David's email.

Their room in Vicki's condo is so small they've decided to tell her they'll get a room at a hotel. Vicki just embarrasses them by showing them how squeaky the bed is and telling them that's what she wants to hear in the middle of the night. Minus 10.

It could probably do them some good to stay in a room that small so they're forced to be near each other. 

Tamra and Eddie are having a time with Astro, their robot baby. Well, Tamra's having a time with the baby. Eddie's doing nothing to help with it and Tamra realizes that she doesn't have the patience she once had.

But hey, her nipples don't hurt. Plus 10.

He's going on a two hour bike ride and she suggests Eddie take the baby with him. He refuses. She calls him Disneyland Dad and an asshole. Pretty much. 

Shannon has heard all about Brooks, from Tamra, but doesn't see what the big deal is. To her, Brooks and Vicki look happy, so Shannon's happy for them.

Billy, Vicki's brother, agrees to give Shannon and David his room. Plus 10.

Lizzie's trying to potty train Preston, her oldest son, who continues to ask for a diaper. She asks Christian to take the boys and go--anywhere--just go for a bit so she can hang out with Heather and spend some time on her company.

Lizzie thinks god wants her to have it all. And by "have it all" she means "have a nervous breakdown." She wants to keep her company, keep having babies, and keep doing all the things she loves doing. 

Here's hoping that works out for her.

Vicki and the gang go out on jet skis, but Shannon hates the ocean because of the fish. She DOES have fun, though, so Plus 9.

David's having a good time and is letting his hair down a little bit, becoming Fun David. Shannon wishes he would be Fun David with her more often.

Vicki asks if they like to spend time together. Shannon says she does like to spend time with him and he doesn't answer the question. When asked to answer, he makes a dig at Shannon. Minus 12.

Vicki finishes her tequila and, after seeing the red flags in Shannon and David's relationship, decides to take Shannon downtown for a little girl time.

Heather stops by to visit Lizzie and give advice on having it all since Heather has it all. Heather sees that Lizzie's problem is Christian and not the kids and remembers when she started working again and she and Terry had issues.

Heather gives her great advice to table the baby talk for a month and reevaluate. Plus 10.

Vicki wants to smoke a cigar, but Shannon feels sick to her stomach and doesn't like the idea of smoking cigars at all. Vicki orders a coffee and water while Shannon orders a "weak Stoli." 

Shannon tells Vicki about going to Heather's house and says that she wasn't able to get a sentence out before Heather just started in on her, scolding her.

As Shannon tells her story, Vicki sides with Shannon without even hearing any of it from Heather. Together the women decide they don't trust Tamra, and Vicki nicknames her "Telephone." 

The chef has one shot of impressing Terry with his cooking, and he does. Nelse gets to stay. They all gather around the television to watch Heather's Hawaii Five-0 episode which...didn't it air a month ago? Before Christmas? 

Heather gets the side-eye for watching an episode where her character gets beat up and dragged down stairs with Collette. 

Shannon and David have a spat at dinner when they order drinks and she says he's not really a drinker, trying to say that his love of tequila is new but it comes across as her not liking that he's drinking. Minus 15.

She's really out of touch because she keeps calling their marriage "fine" and when they get back to the table she says "maybe next time you could make me not look like such a bitch." Out of nowhere. 

These two seriously need counseling. Not holistic healing. Not a voodoo doctor. Not acupuncture.

Ther.A.Py.

They leave the table to go outside and talk. She says, again, that she's 100% committed to doing whatever it takes to get her marriage back to where they were. 

1. Don't go on a reality TV show and throw your entire life and marriage under a microscope.
2. THERAPY.

EPISODE TOTAL: 18 SEASON TOTAL: -434

What did you think of The Real Housewives of Orange County Season 9 Episode 11? Does Heather Dubrow actually have it all? Just how badly do Shannon and David Beador need therapy?

Miranda Wicker is a Staff Writer for TV Fanatic. Follow her on Twitter.

Tags: The Real Housewives of Orange County, Reviews, Reality TV