Remember when True Blood and HBO used to use the slogan "Waiting Sucks" in the off season?
Well, that was especially true in all aspects of True Blood Season 7 Episode 6.
All we did was wait. Wait in the lawyer's office, wait for Eric and the Yakuza to strike a deal, wait for Sookie's test results. Wait, wait, wait.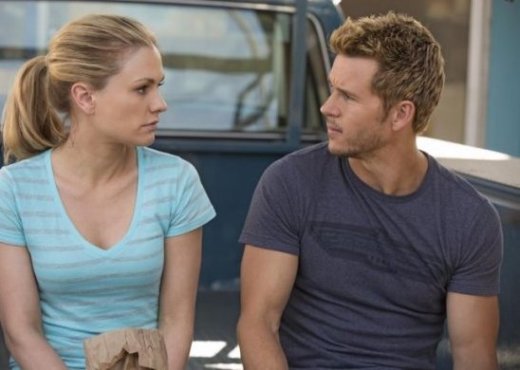 With True Blood Season 7 Episode 5 closing out with Bill noticing the telltale black Hep V veins growing on his chest, we knew he would be formulating plan. Bill and Eric both have very different approaches to getting things done, but both are effective in their own ways.
For Bill, that meant heading down to the resident vampire lawyer to get his affairs in order. Now that was a woman who clearly needed a little sunshine in her life. Seriously, what moron is going to piss off a bunch of sick and tempestuous vampires? That was a Bill "acting like Eric" moment when he staked her.
Bill Compton is one tough motherf*cker. He's gonna beat this thing. I mean, hell, he was like a bonafide vampire God about 6 months ago.

Jason
Over in Dallas, after Eric's Terminator 2: Judgment Day encounter with Sarah Newlin (shout out to regular TB reviewer Chris O'Hara), Eric was distracted by the Yakuza. By the way, I'm sensing some heavy movie references in this last season.
Last week, we had T2; this week the Yakuza were driving around like The Fast and the Furious: Tokyo Drift and then we had Eric and Pam slow walking up to the house to a soundtrack straight out of Boogie Nights.
But back to the Yakuza: they wanted Eric for his information on Sarah Newlin's whereabouts. Eric was about to let his pride get him burnt to a crisp if it weren't for Pam knocking some sense into those testosterone fueled idiots.
Sarah Newlin's gonna be having the last f*cking laugh, shopping at Barney's and having her manicure if you two can't stop measuring your d*cks and strike a f*cking deal.

Pam
So Sarah Newlin is the cure. I have to say that I did not see that coming. I didn't even deduce that Sookie contracted Hep V from that scene in the woods. Feeling a little stupid, I'm going to make what I think is a pretty good guess and say that Bill's Hep V is progressing at such a quick rate because it is mixed with fairy blood.

Did anyone else spy Niall in the True Blood Comic-Con trailer? I smell a fairy story line happening!

Elsewhere, Sam was boring but Nicole was spot on with her assessment that he is the "mayor of crazy." Violet redefined the phrase "a woman scorned" with her shady little kidnapping. And Adilyn and Wade set out to recreate a little Cruel Intentions action by taking their almost step-sibling relationship to a very sexual level.

Also, did I come across a batch of some really good V or was Lettie Mae slightly less annoying this week? I think the fact that Lafayette took the trip with her and saw that Tara really was trying to send them a message made me think that maybe she was a smidgen less crazy.

Or maybe I'm just spent from the weekend. So how about you guys:

Is Lettie Mae actually onto something?

Leigh Raines is a TV Fanatic Staff Writer. Follow her on Twitter.

Tags: True Blood, Reviews