The introduction of new characters in Under the Dome Season 2 after killing off several Under the Dome Season 1 characters has not helped clarify the story at all.
Rebecca, the science teacher, has basically replaced Linda as Big Jim's main confidant. She's an odd one.
Whereas Linda was likable most of the time, Rebecca comes off as abrasive and inhumane. She has the science smarts to help better the conditions under the Dome, but also advocates for extreme measures like a possible purge on Under the Dome Season 2 Episode 3.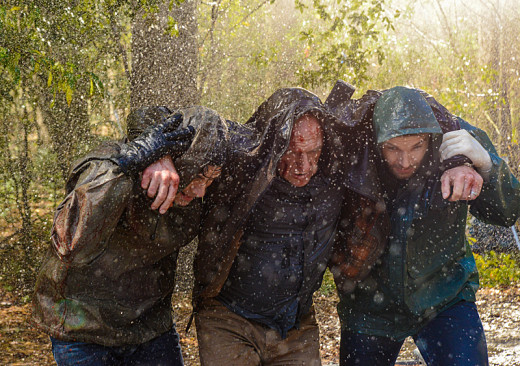 On the surface, Rebecca's my type of character. She's a strong, opinionated and smart woman, but I don't like Rebecca at all. She has tunnel vision when it comes to the science without any regard to the humans involved. When she determined the supply shortage, she immediately advocated for a purge.

She said it was a last resort, yet I don't buy that. She's a scientist and hasn't focused much time, if any, on coming up with solutions to expand their supply levels or extend their use. Instead, she came up with a survey to determine how to shake the tree and select those to be killed. 

In contrast, Lyle the barber dismissed science and believed the Dome and happenings surrounding it are related to God and salvation. In a weird way, both Rebecca and Lyle came to the same conclusion from very different means. While Rebecca advocates for a purge, Lyle believes the rapture is coming. Both views end up with a decreased population in Chester's Mill.

Neither of their views really jives with what was revealed last season about the Dome. What's happened to the alien's protecting the town that revealed themselves to Julia? And, what about the four hands? The egg? That mythology has been ignored with the focus shifting to the new characters' beliefs.

That leaves us with the mystery girl. Who is she? Why did she appear in the lake? And what purpose does she serve? We still don't really know. Those around her should be suspicious about her intent. None of the questions have been answered, but she may finally have a name.

Melanie Cross was a student in 1988 and looks just like the mystery girl. It's been 26 years since she was in high school and she would be in her early 40s today. She could easily have been a friend of Junior's mother, father and/or uncle. Though, Sam didn't seem to recognize her except in the drawing that his sister had done.

She remains a mystery. 

We did find out that something happened years before between Junior's mother, Lyle and Sam. Junior now knows his mother's alive and that Lyle has answers. It's interesting that neither BIg Jim or Sam seem to know that she's alive. They could be playing along with a story, but that doesn't appear likely.

Overall, I'm not impressed by the introduction of new characters or the change in direction this season. I definitely had issues with the storytelling last season, but there's nothing here that makes it better. If anything, it's more confusing now. More questions being raised and no real answers provided.

At least last season I had people to support and root for in Julia, Barbie, Angie, Joe and Norrie. This season, I'm not connecting with any of the characters, not even Barbie or Julia. I haven't lost all hope that the season will turn around, but it better soon since it's a short season.

Which new character do you like the most?

Carla Day is a staff writer for TV Fanatic. Follow her on Twitter and on Google+.

Tags: Under the Dome, Reviews