Another hour and it's the same ole same ole on Under the Dome Season 2 Episode 5.
Okay, that's not entirely true, but for the most part the episode covered the same struggles that we've seen before and ended with a similar result.
The main power struggle has shifted to focus on Big Jim and Julia. He will do anything to get what he wants, while Julia wants to protect the townspeople.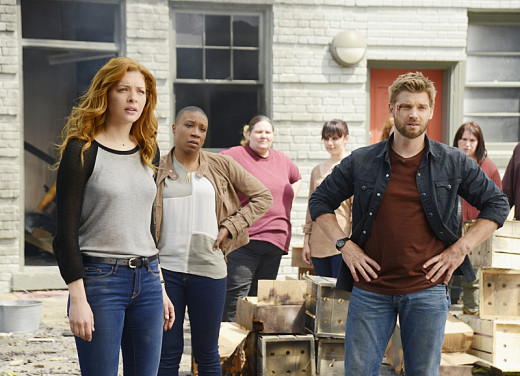 As we've seen before when the townspeople get together, someone was accidentally killed. In this case, Wendell wanted to protect Big Jim and even though Barbie disarmed him, Phil shot him dead. Oops. That's the expression to describe the reaction to Wendell's killing. Julia fired Phil, but it never felt like anyone truly cared or mourned Wendell's death.

Here one day ... dead the next. No big deal.

If anything, Phil helped Big JIm when he killed Wendell, because it provided a minion to do his dirty work. After Julia and Barbie reconciled, she focused her attention on solving the food problem and Big Jim used her food collection as a target to discredit her. He's a vile man. Really.

He went from wanting to kill half the population to ensure their survival to destroying some of their resources in order to regain power and control of the town. When it comes down to it, Big Jim hasn't changed since his near-death "sacrifice," instead he's returned to his old killer self.

Ultimately, Big Jim's plan failed to achieve his goal. His temporary fate was sealed when Julia found Andrea's secret stash of supplies. He's not out of the game yet though. The grimace fixed on Big Jim's face showed that he was down but definitely not out. He's going to use his allies to help him.

Julia's leadership and Barbie's strength won out this time.

While the battle for power played out, another perhaps more important quest was taking place to figure out the truth about Melanie, Junior's mother, Angie's death and about the Dome. Ever since Sam appeared, he's come across as suspect with a hidden agenda. For the first time, we saw his true self.

Sam is a killer. He eliminated Angie in the hopes of bringing down the Dome. Since he didn't really know Angie much, there wasn't an emotional cost to him for her death. As nefarious as Sam has proven to be, he couldn't kill his nephew. He proved that he does have a heart in there somewhere.

I could do without the love triangle thing between Joe, Norrie and Melanie. The negative characterization of Norrie came out of nowhere. Before Melanie's arrival, she was by Joe's side and supportive of him, so I'm not sure why she's being called a "bitch" like it's a longstanding characteristic.

While Big Jim, Julia and Barbie play their grown-up games, it's now Sam, Rebecca, Junior and the kids who are doing the real important work of investigating the Dome's origin and working to uncover the secret messages left behind by Junior's mother. 

Behind the locker where Angie was killed, they found an extremely important tunnel. Could it lead to a way out of the Dome? The mystery being unraveled is the best part of the show and I hope the focus shifts primarily there over the remaining episodes. At this point, the town's politics is repetitive and uninteresting.  

Where does the tunnel lead? Why is it there? And will they ever get out from under the Dome?

Will the tunnel lead out of the Dome?

Carla Day is a staff writer for TV Fanatic. Follow her on Twitter and on Google+.

Tags: Under the Dome, Reviews