CBS has announced the full cast of Survivor: San Juan Del Sur.
Bringing back the Blood vs. Water theme, Season 29 will premiere on September 24 and feature loved ones competing against each other.
It will include a controversial ex-baseball star, a police officer, a Broadway performer and many others.
Here's a look at the castaways on the island and a rundown of their backgrounds: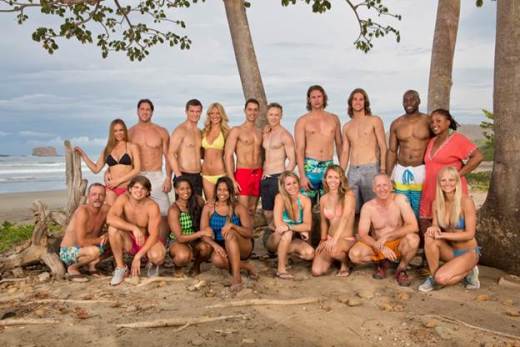 BROTHERS:
Drew Christy, 25, a traveling sales rep from Winter Park, Fla.
Alec Christy, 22, a student from Winter Park, Fla.

MARRIED:
Jeremy Collins, 36, a firefighter from Foxboro, Mass.
Val Collins, 35, a police officer from Foxboro, Mass.

DATING:
Reed Kelly, 31, a Broadway performer from New York, N.Y.
Josh Canfield, 32, an actor/singer/writer from New York, N.Y.

COLLEGE SWEETHEARTS:
Jon Misch, 26, a financial assistant from Waterford, Mich.
Jaclyn Schultz, 25, a media buyer from Las Vegas, Nev.

DATING:
John Rocker, 39, a former baseball player (Braves, Indians, Rangers and Devil Rays) from Atlanta, Ga.
Julie McGee, 34, a model/spray tan business owner from Atlanta, Ga.

SISTERS:
Natalie Anderson, 28, a student and Crossfit coach from Edgewater, N.J.
Nadiya Anderson, 28, a Crossfit coach and project coordinator at Bridge2Peace from Edgewater, N.J.

FATHER & SON:
Keith Nale, 53, a fire captain from Shreveport, La.
Wes Nale, 23, a firefighter from Shreveport, La.

MOTHER & DAUGHTER:
Missy Payne, 47, a cheerleading gym owner from Dallas, Texas
Baylor Wilson, 20, a student from Nashville, Tenn.

FATHER & DAUGHTER:
Dale Wentworth, 55, a farmer from Ephrata, Wash.
Kelley Wentworth, 28, a marketing manager from Seattle Wash.

Matt Richenthal is the Editor in Chief of TV Fanatic. Follow him on Twitter and on Google+.

Tags: Survivor, Reality TV