The past was very much present in True Blood Season 7 Episode 8 - and not all of it was a happy trip down memory lane.
Between Hoyt and Jessica, the end of Tara's journey and Bill's big decision, it felt like the past was still influencing our characters even as we near the end.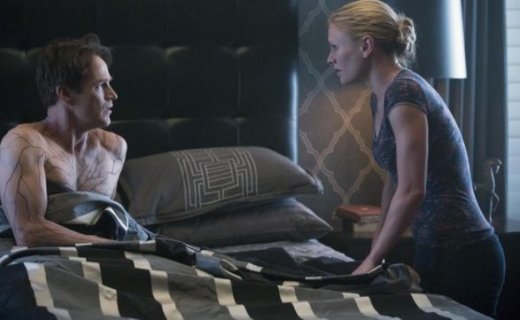 We kicked off with a visit to Sarah Newlin Noomi hiding out at the Light of Day Institute. She may be ridiculous, but her character has always brought entertainment to the show and, more importantly, now she brings the CURE.
That's right, everyone: Eric Northman is no longer dying. Bust out the champagne and pray for one last Viking sex scene. Can I get an Amen?
I kid, I kid...well, mostly. But Eric is truly such an essential character to this series and I'm happy to see that he is not going to taper out and melt into a pile of blood the way Nora did in True Blood season 6. Just seeing him back in his uniform of a motorcycle jacket had a big smile plastered across my face.
A healthy Eric, with a Pam that no longer has to worry, means we are back to our usual bevy of clever comments and enjoyable scenarios.
Quiet, antidote.

Eric [to Sarah]
Not everyone had such a happy episode, however. After Sookie recklessly followed Eric like the "danger whore" that she is, she and Jess brought Bill back to get the cure. Eric allowed it ,of course, showing that he has grown a conscience over the years, but Bill refused.
Anybody out there surprised by this? I wasn't.
We've had to endure boring Bill Compton flashblacks all season for a reason and, if I had to venture a guess, it would be Bill's way of realizing that his vampire life is coming to an end. He wants to be reunited with Sarah, his one true love. He doesn't believe he serves a purpose here anymore.
Bill also thinks he brings darkness to Sookie's life.
From the very first moment that we met, you reminded me of what it was like to have my human heart. The problem was, it was only a memory. All I had was my darkness to give you in return.

Sookie [to Bill]
As weird as it's been, I must say that I've enjoyed seeing Hoyt these past two weeks. Hoyt used to be one of my favorite characters on the series, but I understand that he wanted to be glamoured after the heartbreak he endured. 

The question is, doesn't he sense some deja vu when he's around Jess? She clearly still has feelings for him. He was her first serious relationship and she messed up and slept with Jason. I'm wondering if Hoyt's memory will somehow be triggered. We know Sookie has the ability to undo a glamour/bring back a memory so we shall see.

I weirdly thought that Bridget was going to end up saving them, but was super thrilled when it was Hoyt. Man, Violet truly was a PSYCHO - yes, the all caps are necessary. Poor Adilyn. Hell, that is one way to scare your teenager daughter from running off and having sex with her new boyfriend, am I right?

The last bit of memory lane was Tara's closure. I have no idea why this took eight episodes, but maybe this means we can finally wash our hands of Lettie Mae. Please.

It seems like everyone is tying up loose ends in some way or another. Everybody is preparing for the end, finding their closure. So what will become of Bill and his suicide mission.

Will Bill end up taking the cure?

Leigh Raines is a TV Fanatic Staff Writer. Follow her on Twitter.

Tags: True Blood, Reviews