Danielle told her friends that her new boyfriend was the whole package, but was dating a married man what got her killed on Rizzoli & Isles Season 5 Episode 12? 
The murder by suffocation was scary. Was anyone else yelling at the TV for Danielle to try and rip the plastic bag and then struggle with her attacker? Unfortunately, it didn't work that way.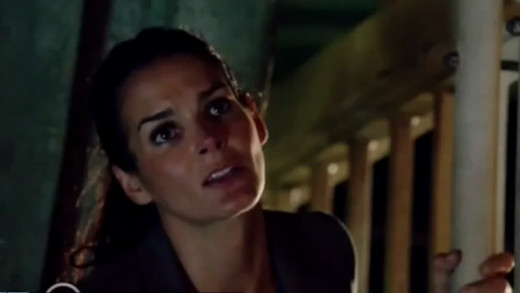 Like Jane, I didn't believe that Paul killed Danielle. If he did he was damn good at lying about how much he loved her. The simple fact that he knew how much she liked the color sage from the Pottery Barn catalogue screamed love to me. 
That leaves us with a couple of options. Either the killer is a Cork Killer copycat, it's the real Cork Killer and Paul put the wrong man behind bars, or it's Paul's wife who decided to take revenge for his affair in the most extreme way possible. 
My pick is the wife, although she had me wondering when she told the police about her husband's suicidal message but perhaps she was only covering her tracks. 
Jane was taking a huge risk going over the railing of that bridge. If Paul had grabbed hold of her he could have taken her down with him. Of course that didn't matter much since Jane chose to jump in after him. 
There were other moments in the case worth mentioning. I enjoyed Frankie's back and forth with the hotel manager who was less than forthcoming with his guest list.
What you call discretion I call obstruction of a criminal investigation.

Frankie
Jane and Nina's conversation over rhinestone-encrusted, blinged-out phone covers was also fun, as Jane quipped in this Rizzoli & Isles quote…
It looks like Hello Kitty threw up on My Little Pony.

Jane
I liked Nina all the more when she pulled out her own sparkly phone. She could have hidden it but the fact that she pulled it out to show Jane tells us a little something about her character. Some people find Jane intimidating but obviously Nina isn't one of them.

Angela's advice to Maura was misplaced but not entirely wrong. Maura could have easily had problems connecting with Jack's daughter, Allie. The teenagers at the park were right. Maura came across as both too close and too needy during their conversation. Thankfully, Allie was quirky enough to get along well with Maura, although the lip gloss incident may not have made a friend of Allie's mom.

Now we have to wait until February to find out what happens next. Being that Jane is one of two main characters on the show, I'm assuming she survives her plunge but will Paul? And who do you think really killed Danielle?

C. Orlando is a TV Fanatic Staff Writer. Follow her on Twitter.

Tags: Rizzoli & Isles, Reviews