Episode Guide
Elijah, Klaus and company continue to try and take over the French Quarter on The Originals Season 2 Episode 4. Read on for a recap of the installment.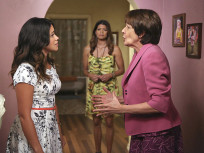 Jane ponders a life-altering decision on Jane the Virgin Season 1 Episode 3. Meanwhile, Alba takes it into her own hands to stop Rogelio from trying to see Jan.
Diane goes up against Louis Canning and David Lee when she plans to move Florrick/Agos/Lockhart into the Lockhart/Gardner/Canning office space on The Good Wife.
A dire situation in West Africa has Elizabeth pleading with the President for help on Madam Secretary.
On Once Upon a Time Season 4 Episode 5, Sydney Glass comes back into play. How so? Read our rundown of the latest installment of the drama right here and now.
On Revenge Season 4 Episode 5, Emily attempts to reunite with her dad. However, she needs to find a creative way in which she can accomplish this goal.
On The Walking Dead Season 5 Episode 3, things aren't going well for Rick and company. They come up against some rather nasty people on this installment.
Just as the Mara threat is brought under control an new paranormal threat strikes Haven.
Frank must deal with a scandal involving insensitive comments made by Henry and Jamie is targeted by a thug on Blue Bloods.
On the fourth anniversary of his father's death, McGarrett comes upon a woman who can help him solve his father's last cold case on Hawaii Five-0.