Episode Guide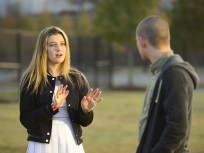 On Red Band Society Season 1 Episode 10, Emma learns a shocking secret when she goes home and Leo and Kara both leave the hospital.
On Stalker Season 1 Episode 10, the team tries to figure out the connection between two seemingly random victims.
It's The Flash! It's Arrow! It's an epic crossover event that will conclude on Arrow Season 3 Episode 8.
Tensions increase significantly on Sons of Anarchy Season 7 Episode 12. Jax, meanwhile, is tasked with making a major decision about his future.
On The Mindy Project Season 3 Episode 10, Mindy insists on helping Peter find a better place to live.
On Chicago Fire Season 3 Episode 10, the team responds to a house fire that leaves a perplexing aftermath in its wake. Read more after it airs.
On New Girl Season 4 Episode 10, Winston studies for his police academy exam and Nick and Kai's first date goes on longer than expected.
On Supernatural, Jody Mills is required to attend a Sheriff's retreat and winds up partnered with an over-eager Sheriff who wants to bond.
On The Flash Barry is excited when Team Arrow visits Central City during an investigation, but things don't go well when he tries to prove himself to Oliver.
On Sleepy Hollow Season 2 Episode 11, Moloch prepares for war as everyone else gets ready for the possible end of days.