Episode Guide
Oliver turns down extending his contract as Acting Staff Sergeant and Duncan's dismissal hearing begins on Rookie Blue.
Dr. Rush handles a new medical emergency and reaches out to his estranged father on Rush.
Mike vows to take his enemy down at all costs even if it means going outside the boundaries of the law on Graceland.
With Mike still reeling from his battle over Gillis Industries, Rachel brings disturbing news on Suits.
When Sparks wants to quarantine Molly, she and her family head to a remote island with her estranged father on Extant.
Sunjai must choose between performing or attending her high school prom on Bring It.
Andy Cohen has the ladies on the sofa to discuss everything that happened during The Real Housewives of New York City season 6.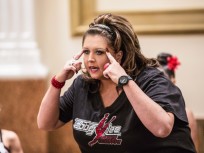 A new season of Dance Moms begins as Abby brings back her winning Select Team to compete against her original Elite Team in a rematch.
Alison moves in with Hanna, causing Hanna to spiral in "Scream for Me."
Divya grows concerned over Jeremiah's new relationship while Hank seeks romance with a woman he met in Europe on Royal Pains.