TV Fanatic Works Better with Prime Instant Video
40,000 other titles are available to watch now.
Joey Tribbiani Photos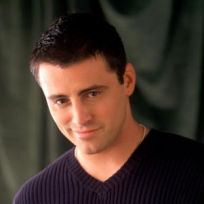 Added:
Displaying 1 photo
Around the Web
Want more Friends?
Sign up for our daily newsletter and receive the latest tv news delivered to your inbox for free!
Rachel: Daddy! Daddy listen to me! It's like all my life everyone's told me, "You're a shoe! You're a shoe! You're a shoe!" Well, what if I don't want to be a shoe? What if I wanna be a purse or a hat? No I don't want you to buy me a hat, I'm saying I am a hat. It's a metaphor Daddy!
Ross: You can see where he'd have trouble.
Ho, ho, ho, holy crap is it hot in here!

Chandler