Arrested Development Season 2 Episode 13: "Motherboy XXX" Photos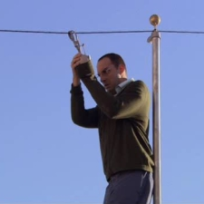 Added:
Displaying 1 photo
Around the Web
Want more Arrested Development?
Sign up for our daily newsletter and receive the latest tv news delivered to your inbox for free!
Maeby: Do you guys know where I can get one of those gold necklaces with a "T" on it?
Michael: That's a cross.
Maeby: Across from where?
Michael: I think it's getting too risky keeping you up here.
George, Sr.: You know what's risky? Letting your son go on that church thing.
Michael: Her name is Ann, Dad, and he's not "going" on her, ok? They're just friends.
George, Sr.: Not for long. They're making promises to each other. It's all that fidelity and pledging yourself to a woman garbage. I wine 'em and dine 'em, but I don't let them tell me what to do. (speaking to his dolls, arranged for a tea party) I don't let them tell me what to do.
Michael: Ok, I should've never taken the pumps out of here.