Criminal Minds Season 8 Episode 6: "The Apprenticeship" Photos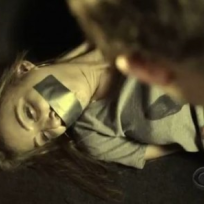 Added:
Displaying 1 photo
Around the Web
Want more Criminal Minds?
Sign up for our daily newsletter and receive the latest tv news delivered to your inbox for free!
In the last month six puppies have been suffocated and beaten and thank God there are no photos because I draw the line at dead dogs.

Garcia
Morgan [after Reid takes a wild swing at the ball]: okay okay. First try. Keep your eye on the ball.
Reid: Gravity plus drag co-efficient plus...I see what you're saying ..if I can adjust the velocity of my swing...
Morgan: No. What I'm saying is get out of your head. Just feel it.
Reid: Feel it. Feel it.
Morgan: Yeah. Don't think. Just feel it.
Reid: just feel. Don't think. Just feel.
Morgan: here it comes! [Reid swings and misses] Reid. That's not feeling it.
Reid: I'm feeling like an idiot.