Futurama Season 2 Episode 15: "A Clone of My Own" Photos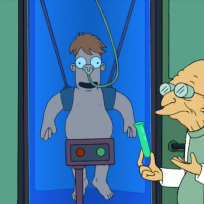 Added:
Displaying 1 photo
Around the Web
Want more Futurama?
Sign up for our daily newsletter and receive the latest tv news delivered to your inbox for free!
Farnsworth: Thank you all for saving me. Especially you, my little clone. No matter what you decide to do with your life, I'm still proud of you.
Cubert: I've already decided. Dad, when I grow up I wanna be just like you.
Farnsworth: Don't worry, son, you will. Incidentally, you might want to read up on a condition known as "wandering bladder".
Cubert: Why?
Farnsworth: No reason. No reason at all.
Guardbots: Seize them!/Seize them!/Seize them!/Seize them!/Seize them!
Guardbot: Get them! I mean, seize them!