TV Fanatic Works Better with Prime Instant Video
Try it Now for Free and Instantly Watch Gilmore Girls.
Gilmore Girls Season 2 Episode 1: "Sadie, Sadie" Photos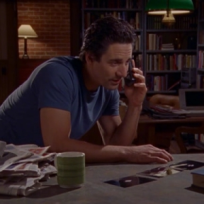 Added:
Displaying 1 photo
Around the Web
Want more Gilmore Girls?
Sign up for our daily newsletter and receive the latest tv news delivered to your inbox for free!
Emily: ...Rory finished in the top 3 percent!
Lorelai: I know.
Emily: You do? Well, who do you know at Chilton?
Lorelai: Um...Rory. (points at Rory)
Emily: So, what would everyone like to drink?
Lorelai: Uh, well, I'll have a white wine and Dean'll have a beer.
Dean: What?! (taken by surprise)
Lorelai: Corona, right?
Dean: (completely panicked) No, I don't want a beer! I don't drink beer. I'll have water or soda or anything. Or nothing. Not beer. Never beer. Beer is... beer's bad.
Emily: Relax Dean, that's just Lorelai's little sense of humor. (to Lorelai) You're very cruel.
Lorelai: Well, yes, keeps me young.
Dean: I'm just gonna sit here and stare at my hands.
Emily: Soda Dean?
Dean: Please.
Emily: Rory?
Rory: Oh, I'll have a beer. (Emily and Lorelai laugh) I'm sorry Dean, we're not laughing at you.
Lorelai: Oh wait, I think I was.
Emily: I think I was a little too. (Richard walks in) Oh Richard, there you are. Come join us.
Lorelai: Hey Dad.
Rory: Grandpa, hi. This is Dean. Dean, this is my Grandpa.
Dean: Hi. Sorry, uh, hi. (he gets ups and walks over to Richard)
Richard: Hello.
Dean: (offers to shake his hand) It's uh... it's nice to meet...
Richard: (ignores Dean's hand) Does everyone have drinks?
Lorelai: Uh yeah, we all have drinks. Thanks.
Dean: (he moves back to his seat and whispers to Lorelai) Should we do the beer thing again?
Lorelai: Uh, I don't think so.