TV Fanatic Works Better with Prime Instant Video
40,000 other titles are available to watch now.
Grey's Anatomy Season 1 Episode 5: "Shake Your Groove Thing" Photos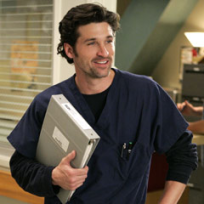 Added:
Displaying 1 photo
Around the Web
Want more Grey's Anatomy?
Sign up for our daily newsletter and receive the latest tv news delivered to your inbox for free!
[narrating] "Remember when you were a kid and your biggest worry was, like, if you'd get a bike for your birthday or if you'd get to eat cookies for breakfast. Being an adult? Totally overrated. I mean seriously, don't be fooled by all the hot shoes and the great sex and the no parents anywhere telling you what to do. Adulthood is responsibility. Responsibility, it really does suck. Really, really sucks. Adults have to be places and do things and earn a living and pay the rent. And if you're training to be a surgeon, holding a human heart in your hands, hello? Talk about responsibility. Kind of makes bikes and cookies look really, really good, doesn't it? The scariest part about responsibility? When you screw up and let it slip right through your fingers."

MEREDITH
"I guess we're adults. The question is, when did that happen, and how do we make it stop?"

MEREDITH