Rookie Blue Season 4 Episode 5: "Poison Pill" Photos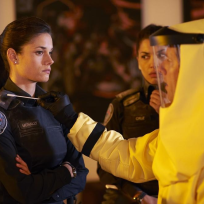 Added:
Displaying 1 photo
Around the Web
Want more Rookie Blue?
Sign up for our daily newsletter and receive the latest tv news delivered to your inbox for free!
Nick: Well if my goal this morning was to gross you out and then disfigure you...
Gail: You are doing so good.
Dov: You know that guys a fireman, right?
Chloe: So?
Dov: You're in a room full of cops and you're talking to a guy who basically operates a hose for a living.